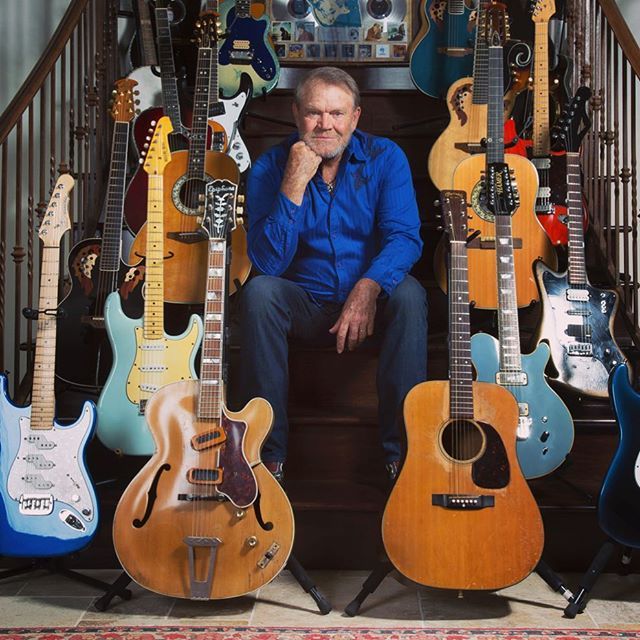 By Chris Watson
Just this week singer Glen Campbell passed away.  He was, by all accounts, a study in solid musicianship.  Certainly, he was known for his crossover mega hits like Gentle on My Mind, By the Time I Get to Phoenix, and Rhinestone Cowboy.  These hits crossed the bridge between country and pop.  Although he was hardly the first musician to cross charts, he was definitely one of the most influential.  Singer/songwriters like John Denver and Kenny Rogers have Campbell to thank for crossover potential.  For that matter, so do Carrie Underwood and Kid Rock.
Like many of his era, he performed well into his seventies, slowing and finally stopping his performance schedule due to Alzheimer's. He opened a theater in Branson Missouri, as so many have, and performed regularly. He was true to his sharecropping origins (born in southwest Arkansas) and rarely canceled performances (and yes, that is a not so veiled wave at the Biebs).  He had a decent voice but not the best of his generation.  He was a fabulous guitarist and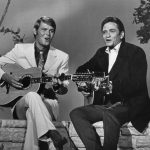 anyone in the business will list him amongst the greats. However, although equally talented and influential, he was never elevated in the mind of the public as a guitarist in the way of Merle Haggard, Les Paul, Chet Atkins, and Jerry Reed.  He was, by most descriptions, a solid performer. At least that is the way most of us knew and remember him.
What many don't know is how much of a "working" musician he was. Years before he came into his own as a star he was a prolific session musician for rock, pop, and of course, country acts.  His list of session playing includes Nat "King" Cole, Frank Sinatra, the Monkees, Merrle Haggard, and Elvis.  At his height, he also played with the Beach Boys, joining them as a backup bass player to compensate for the then absent Brian Wilson.
I am not writing about Glenn Campbell because I am a fan although anyone my age remembers him. The extent of my exposure to Campbell as a guitarist is that I vaguely recall accompanying someone singing Wichita Lineman during a high school talent night.  What I am a fan of is musicians and performers who truly recognize their talent and respect it enough to constantly share that talent. They have a job, one that they love, and they do it day in and day out for varying compensation in the hopes that people enjoy their efforts.  Campbell went from the session musician to stardom to playing a resort in Branson Missouri in the span of a five-decade career. When many retire, he continued even in the face of Alzheimers.  Why?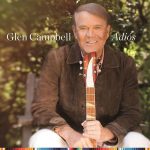 Because when one is blessed with that kind of talent that blessing must be shared.
There are many working musicians in our region. Many make only a partial living from their art, supplementing performance dollars with "real" jobs. The Toledo Symphony Orchestra is stocked with brilliant musicians who, although compensated, don't really play in the symphony for the money. Our schools have music teachers who, by any stretch of the imagination, are "working" musicians. Add in the Toledo Choral Society,  The Art Tatum Jazz Heritage/Toledo Jazz Society, and a host of local churches, synagogues, and temples that represent some of the best musicians around offering their talent to the public.
BGSU, just 10 miles south, has a College of Musical Arts.  Not a department and not a school, but a college that hosts one of the broadest academic music platforms in the region, including academic programs in performance, conducting, composition, theory, education, and my personal favorite (partially because I think the name is "lyrical"), musicology/ethnomusicology. And, like all universities, BGSU has ensembles and solo performers both as students and on staff that share their talents. For that matter so does University of Toledo.
Then we have our local favorites; names like Swingmania, Johny Rod, Kerry Patrick Clark, Zac Ward, The Homewreckers, David Lester, Don Coats, Jeff Stewart, Duet To-it and I would be remiss if I didn't plug my own group,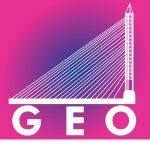 DCTaylor.  This is by NO means an exhaustive list. These are just a few of the great musicians who are entertaining us every weekend.  We play at places like Ye Ol' Dirty Bird, Majestic Oak Winery, Chateau Tebeau Vineyard & Winery, The Beir Stub, Doc Watson's, The Village Idiot, and Frankies.  Again, this list of great venues barely breaks the surface.
RightSizeLife.com has launched a variety of local calendars to help you find ALL the events happening in our area. Our Local Entertainment Calendar is just one great example of the many great calendars we have to offer. Our calendars are fully searchable calendar, by the venue, by group, by genre, and even by things like cuisine and time, to help lift these groups, ensembles, solo acts, theater performances, poetry readings, improv nights, open mic nights…in effect, working talents. The goal is to help our readers find great entertainment right here in our local neighborhood.  As a working musician myself, I know the need.  As a lover of live entertainment, I want the resource.
Glen Campbell did it all.  He showed us how to be a team player in the background, step up into stardom, then step back and be a team guy again.  I love that kind of musician.  That is the kind of guitarist and singer I want to be. In fact, that is the kind of person I want to be.
My drama teacher in high school had a saying, "there is no such thing as small roles, only small actors."  Glen Campbell showed that the same is true in music.