By Chris Watson
On the list of least likely places to find a managed IT services company?  Waterville, OH. Running this locally owned but globally and technology savvy company?  Two guys from Gibsonburg OH. Yet, dotnet Technologies is exactly that; a complete service information technology (IT) company providing businesses and organizations in Northwest Ohio IT solutions.
Two Guys and a Solution
"Everybody has had that tech support call," says Andrew Stainbrook, General Manager and co-owner of dotnet. "The one where we get someone in Utah asking us what the weather is like in Maumee. Usually they mispronounce 'Maumee'."  His smile disappears as he continues. "Tech support seems so far away, distant, even mysterious. Many managed services providers have representatives that are not even domestic. When you are a small or medium size business owner and don't have the need for a full time IT staff in house, nothing is more frustrating than a tech support call to someone who seems to be fundamentally working for someone else and knows nothing about your IT infrastructure."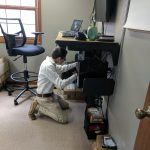 The break/fix problem that we all have experienced personally was the beginning of dotnet. "After several years of schooling, we decided we wanted to take our careers to the next level and start a business," recalls Nate Binder, Systems Administrator and co-owner. "We serviced everything IT related, from your home or office network to your grandmother's DVD player. Obviously, we discovered we needed to narrow our focus." After a couple years they started focusing on business solutions for those local and regional businesses that have managed IT needs and are without an IT staff.
"If you can't hire a fulltime IT staff," claims Stainbrook, "we are there. This goes beyond the tech support call you make when a modem goes down. We are your IT partner guiding you through your technology. Things like routine maintenance and updates, 24-7 monitoring of your assets such as servers, workstations, networking equipment…anything that can eliminate down time in your company. Our systems give us a snapshot of whatever we have on our monitoring list. If at 5 AM your server goes down we can start to respond to that issue before you even open the door to your office."
Time is Money
"The need for managed services is escalating," claims Stainbrook. "Even small one or two person businesses are becoming more and more dependent on internet and cloud driven solutions to run their business. Most businesses take a reactive approach, only responding to technology needs when something breaks. This is like calling a plumber after the sink is clogged. The problem is that until the plumber fixes the sink, no one can use it. If your business or office is dependent on your technology you can't just use another sink. Your business is at a standstill until you are back up and running."
This is no small matter. According to IHS Markit, one of the nation's leading producers of business research and analytics, IT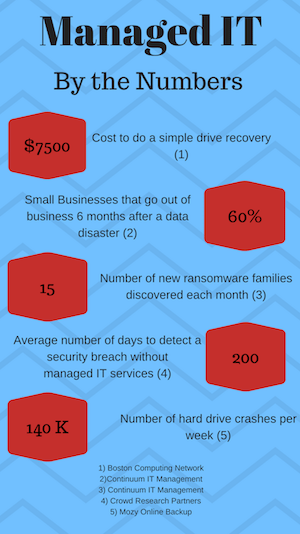 downtime has become a significant source of capital loss across the country. In their 2016 report they found over $700 billion a year in downtime losses. That survey only covered mid cap and large businesses. Smaller businesses are just as vulnerable and, according to the Small Business Association, constitute 46% of the country's GDP which puts IT downtime at a potential trillion dollars a year.
"If you think about it," remarks Binder, "from the single point user to a multi-work station IT driven manufacturer, if you connect to a server of any kind, access data that isn't on a thumb drive, even use server based programs, keeping your systems up and running is essential. Especially in those offices that use a central network. When your server or network goes down everybody is at a stop. You might as well close the doors and turn off the phone. We work with your company to make sure you have not only the equipment you need but the monitoring in place to either prevent down time or drastically limit its impact on your operations."
Dotnet also can ensure that you stay up and running through preventative maintenance. "We have systems that monitor individual hardware on your internal servers," continues Binder. "This shows us when hard drives start to go bad, which allows us to take action before you incur unexpected downtime during work hours."
Cyber Threats Need Cyber Warriors
As expected, peppered throughout the Waterville OH offices of dotnet are super hero and Star Wars posters and action figures. "It is important to remember our roots," jokes Stainbrook, who graduated from Gibsonburg High School with his co-owner. "However," he claims more seriously, "we do a fair amount of protecting people in our business."
Even without the comic book overtones, businesses need cyber protection. Security alone poses a major problem, regardless of company size. Tech giant Symantec in their 2016 annual report found that new and unique malware had increased 36% to over 430 million new viruses in the reporting year. The same survey discovered over one half a billion personal or corporate records had been stolen or lost in the survey period.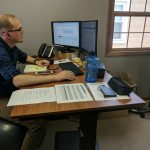 "When it comes to security we have a lot of different layers we can deploy," says Stainbrook. "We use a high-level software that helps protect your server, set up firewalls, and can even set up certain levels of "content filtering" for your employees, only granting limited types of search permissions to individual work stations. Once that is in place we can monitor potential threats and block or remove them."
If your company has greater needs dotnet has several strategies to further protect your IT assets. Stainbrook continues, "We can also add a physical hardware solution that would go between your ISP and your router. That little piece of hardware has software which allows us to provide even more layers of protection to better protect your systems. Confused yet?  The point is we aren't. Our whole focus is to be up on your needs and respond with the right recommendation to protect and manage your data."
Small and Big
"All businesses have big IT needs," says Binder. "At least those needs are big to them. One of the advantages of a local IT solution is that we understand. We know that one server can shut down an entire veterinary clinic or insurance agency. Those companies aren't some account half a continent away. They are neighbors."
Stainbrook wholeheartedly agrees with his partner. "Our technology is like our cars. We barely notice them until they don't work. And like our cars, business is becoming more and more entwined with IT. Doctors and dentists, veterinarians, event halls, insurance and legal offices, financial agents, even retail stores all can use management of their IT systems. Add to that construction companies and contractors, manufacturing companies along with government organizations like emergency services and schools are all IT driven. Wouldn't it be better to have an IT specialist that you can form a relationship with rather than get into the cue for the 'next available technician?'"
Dotnet technologies not only services local companies they support our community as well. This past year they worked with St. John's High School to bring on board a job shadow intern. Zachary DeRosia, a recent graduate of St. John's, was the first intern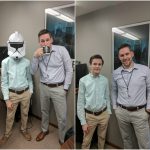 candidate. "Zach did a great job working with us during his time here," declares Stainbrook. "We liked him so much we made him an offer to work with us while he goes to college. From the very beginning he became a part of our team, working with our clients in the areas of routine maintenance and monitoring."
Besides expanding staff dotnet is now expanding into a new area of service called VOIP, or Voice over Internet Protocol. "We have a variety of services we can establish for your business, including phone service, cloud storage, and data backup solutions," states Stainbrook. "Depending on the size of your business, we can offer a variety of services virtually rather than physically in an office. First, this may be more cost effective. Second, we can offer a degree of flexibility in both service provided and cost. Clients can simply budget their IT services over the course of a year rather than being forced to buy tech equipment that will depreciate, both technically and financially, over time."
Above all, dotnet has one primary purpose. "Our goal is to rise above the typical stereotype of an IT provider," declares Stainbrook. "If you are big enough to have an IT department then great. However, if you need IT services, and let's face it, most businesses do, don't troll the internet for some company out of state. We are happy to help."
Technology solutions no longer need to be miles, or even countries, away. Nor do those technicians have to resort to technobabble that sounds more science fiction than fact. Two guys from Gibsonburg decided to change that. Great IT solutions are right next door.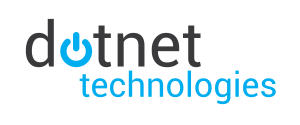 Contact dotnet technologies at:
18 N. 3rd St. #208
Waterville, OH 43566
Office Hours by Appointment Only
419.441.4200
Facebook at: @dotnettech
Twitter at: @dotnet_tech