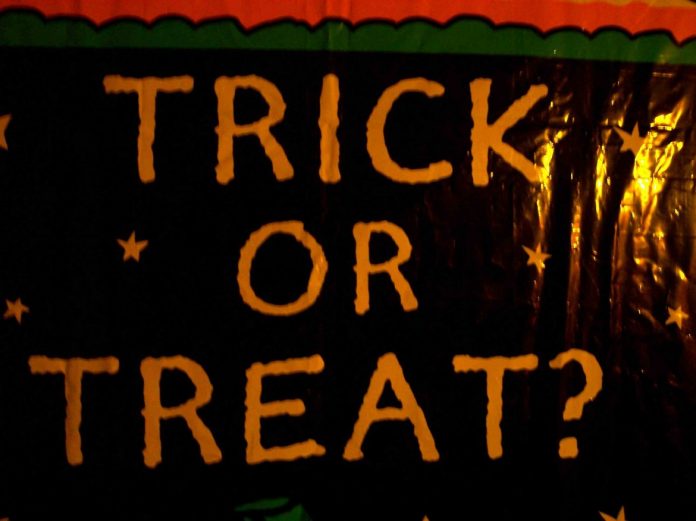 By RSL Staff
Halloween Joke

What do vegan Zombies eat?

Grains…
Be honest. When we say "trick or treat" we really mean "treat or treat". No one wants to do or see the tricks. Unfortunately, Halloween can be filled with pitfalls that are no laughing matter. There are some simple rules that will keep all of us, treat giver and treat receiver, safe, happy, and ready to move on to Thanksgiving.
Watch and Be Watched: Stay visible when out and about on Halloween. If you are with kids or just out yourself light yourself up like a construction zone on the Turnpike. Flashlights, glow sticks, porch lights, reflective tape. Do what ever it takes to make your self easy to spot. And, if you must drive before, during or immediately after trick or treat time, be extra careful. Drive slowly and cautiously. Ghosts, goblins, and sometimes the adults who accompany them can get distracted.
Be aware of the times: Even if you don't intend to participate or will be out and about during Halloween, be aware of when your community is having their festivities. Give at least a 30 minute window on both ends of the time frame for being aware of trick or treaters.
Safe, wrapped, and packaged treats only: We don't need to say anything more other than the days of homemade treats are gone.
Outside only: Whether you are the host or the trick or treater, keep the fun outside. Even heroes like Harry Potter and

It almost goes without saying today, but clearly wrapped and commercially packaged treats are the way to go. Anything else may and probably will be thrown out for safety reasons.

Wonder Woman know not to go into or invite people into their homes.

Groups rule: Everyone knows that in a scary movie bad things happen when the characters split up. Trick or Treating is a group activity. This includes if you are giving out treats. If you live alone and are uncomfortable with doing Halloween alone, pair up with a buddy. First, it is more fun. Second, you can share the candy expense.
Give to all or give to none: If rewarding treaters reward all of them. Judgement on costumes or a treaters origins (you aren't from around here) is best left out of the holiday. If you feel you can't do this it is no problem. Just turn off your porch light and the treaters will walk right on by.
Watch and Be Watched:  Yes, we list this twice…for obvious reasons
We hope everyone has an enjoyable, silly and spooky time this Halloween. Above all, with a few simple cautions, we know that it will be a safe time as well.
Halloween Times in Our Area
Northwest Ohio
Allen Township: Tuesday, October 31, 6:00p-8:00p
Archbold: Tuesday, October 31, 6:00p-7:30p
Bowling Green: Tuesday, October 31, 6:30p-8:00p
Clay Center: Tuesday, October 31, 6:00p-7:00p
Clay Township: Tuesday, October 31, 6:00p-7:30p
Delta: Tuesday, October 31, 5:30p-7:00p
Elmore: Tuesday, October 31, 6:00p-8:00p
Fayette: Tuesday, October 31, 6:00p-7:30p
Genoa: Tuesday, October 31, 6:00p-7:30p
Grand Rapids: Tuesday, October 31, 5:00p-7:00p
Holland: Tuesday, October 31, 6:00p-8:00p
Jerusalem Township: Tuesday, October 31, 6:00p-8:00pm
Lake Township: Tuesday, October 31, 6:30p-8:00p
Liberty Center: Tuesday, October 31, 5:30p-7:30p
Luckey: Tuesday, October 31, 6:00p-7:30p
Lyons: Tuesday, October 31, 5:30p-7:00p
Maumee: Tuesday, October 31, 6:00p-8:00p
Metamora: Tuesday, October 31, 5:30p-7:30p
Millbury: Tuesday, October 31, 6:30p-8:00p
Monclova Township: Tuesday, October 31, 6:00p-8:00p
Napoleon: Tuesday, October 31, 6:00p-7:30p
North Baltimore: Friday, October 27, 6:30-8:00p
Northwood: Tuesday, October 31, 6:00p-7:30p
Norwalk: Tuesday, October 31, 6:00p-7:30p
Oak Harbor: Tuesday, October 31, 6:00p-7:30p
Oregon: Tuesday, October 31, 6:00p-8:00p
Ottawa Hills: Tuesday, October 31, 6:00p-8:00p
Pemberville: Tuesday, October 31, 5:30p-7:00p
Perrysburg: Tuesday, October 31, 6:00p-8:00p
Perrysburg Township: Tuesday, October 31, 6:00p-8:00p
Rocky Ridge: Tuesday, October 31, 6:00-8:00p
Rossford: Tuesday, October 31, 6:00p-8:30p
Springfield Township: Tuesday, October 31, 6:00p-8:00p
Stony Ridge: Tuesday, October 31, 5:30-7p
Sylvania: Tuesday, October 31, 6:00p-7:30p
Sylvania Township: Tuesday, October 31, 6:00p-7:30p
Toledo: Tuesday, October 31, 6:00p-8:00p
Walbridge: Tuesday, October 31, 6:00p-7:30p
Washington Township: Tuesday, October 31, 6:00p-8:00p
Waterville: Tuesday, October 31, 6:00p-8:00p
Wauseon: Tuesday, October 31, 6:00p-7:30p
Whitehouse: Tuesday, October 31, 6:00p-8:00p
Woodville: Tuesday, October 31, 6:00p-8:00p
Southeast Michigan
Adrian: Tuesday, October 31, 6:00p-8:00p
Bedford Township: Tuesday, October 31, 6:00p-8:00p
Blissfield: Tuesday, October 31, 5:30p-7:00p
Dundee: Tuesday, October 31, 5:30p-7:00p
Erie Township: Tuesday, October 31, 6:00p-7:30p
Ida Township: Tuesday, October 31, 6:30p-8:00p
LaSalle Township: Tuesday, October 31, 6:00p-8:00p
Luna Pier: Tuesday, October 31, 6:00p-7:30p
Monroe: Tuesday, October 31, 6:30p-8:00p
Monroe Township: Tuesday, October 31, 6:00p-8:00p
Ottawa Lake: Tuesday, October 31, 6:00p-8:00p
Petersburg: Tuesday, October 31, 6:00p-7:30p
Whiteford Township: Tuesday, October 31, 6:00p-8:00p