How do you grill for two or one? Or, why grill for two or for one? In many cases these questions resonate either because we don't have the right grill or we see the process as too big or fussy. For some of us we are living in an group of homes that may not allow outside grills at all. So the questions remains, how do you grill small?
The answer is, and we are not being sardonic, to grill small you need a small grill.
Outdoor Grills
If you are lucky enough to be able to have an outside grill at home there are many ways to do it without dragging out a Webber kettle grill or the 5 burner gas grill. You may still have those things but they tend to prevent people from grilling on a regular basis. As always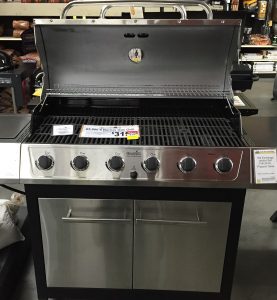 with trying to do things right sized, many grills are two big or messy to "fuss" with two or three times a week. However, with the right sized equipment the fuss goes away and grilled chicken over fresh farmers market greens becomes a twice weekly option.
If you have the space, keep your big grill. You never know when you will want to use it. However, the big grill should not, in any way, prevent you from having a small grill near the house as well. There are several options for smaller grills, starting with the table tops and Hibachi. Both have the smaller footprint and are easier to handle. They also have the convenience of being portable so that when cool they can be tucked away in a garage or car port.
As for gas grills you can also get a good, reasonably priced, two burner gas grill. Like the table top grills these have a smaller foot print and less surface area but they are easier to heat up and very convenient for just one of two people.
Quality Comes First
We won't get into the debate about gas or charcoal at all. There are advantages to both and both produce excellent results (many grillers have both). However, as long as we are talking about purchasing here is the biggest thing about a grill: DO NOT buy cheap. With table top cheap normally means flimsy and they will neither last a season nor cook very well. With two burner gas grills cheap normally means low BTU production and cheap gas burners. Same rule applies, they won't cook well and won't last long.
There are many table top grills that are heavy, well constructed, and above all have the same design as their bigger cousins. They are designed to cook in the same way (Weber makes a small table top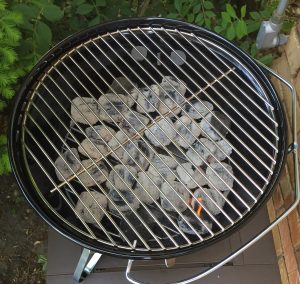 kettle grill for instance, that is high quality and good design) and are simply smaller but same quality versions of their big siblings. For Hibachi's (which is a wonderful way of cooking food) get a cast iron one. They heavy structure allows for even heating and the cast iron, after a few round of cooking, produces an excellent sear on the food.
When it comes to small gas grills forget about "portable" and/or features (like cabinets and shelves). Look for BTU production. Here is the basic rule of any heating device: it is only as good as its highest setting. Many smaller gas grills have correspondingly lower top temperatures. This give you the effect of "toasting" your food instead of grilling. You may never use the top heat capacity of a grill (occasional and beginning cooks shy away from high heat cooking) but you will never have the opportunity to even try high heat cooking without a good grill.
Electric, Indoor, and Patio
Let's be frank, electric and indoor grills are not really grilling but searing, which is a perfectly good cooking technique. Searing is not only a legitimate methodology of cooking but it is also very healthy and tasty. However, indoor and electric grills will never develop that "grilled" taste (which is really a charcoal/smokey taste) that many of us associate with grilled food.
That being stated there are great reasons to have either an excellent grill pan or indoor grill "machine". As for a grill pan we recommend a cast iron pan that has deep or "high" grill ridges. They get extremely hot (which is what you want), season well over time, seal and mark your food, and above all can go in the oven to "finish" what ever you have just grilled.
There are now almost too many electric grills to mention. First made famous (although they were out before) by the George Foreman "Lean Mean Grilling Machine," there have been steady improvements. In general look for one with removable plates for ease of cleaning. It is ok if it has a panini side or other functions but above all look for one that gets to high heat. These grills still handle chicken breast better than any other cooking method. The smaller ones are convenient, heat up quickly, and store easily.
Finally, electric patio grills are basically indoor grills on wheels. In our opinion it seems a waste to spend more money a flimsy stand. If you can not have an outside grill due to living restrictions then get a really good inside grill and learn the joys of marinades and high heat searing.
Don't Stop Grilling
Living in a smaller household gives us even more reason to invest in and use smaller grills. It is actually easier to grill small than big. If you are constantly trying to prepare a supper for 5 on a grill it seems time consuming and fussy. The grill then gets regaled to weekends and parties.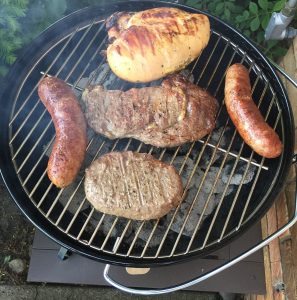 However, when only prepping and cooking for one or two, the grill is a quick, healthy, and festive way to enjoy a meal. One or two chicken breasts, a steak to split, even a small pork loin is perfect for our grills but would never begin to feed a larger family. Unlike some cooking and lifestyle activities, grilling doesn't suffer from size reduction, it actually gets easier and better. With the right equipment and perspective, you will never wait have to wait for a birthday party or holiday weekend to enjoy grilled food again.