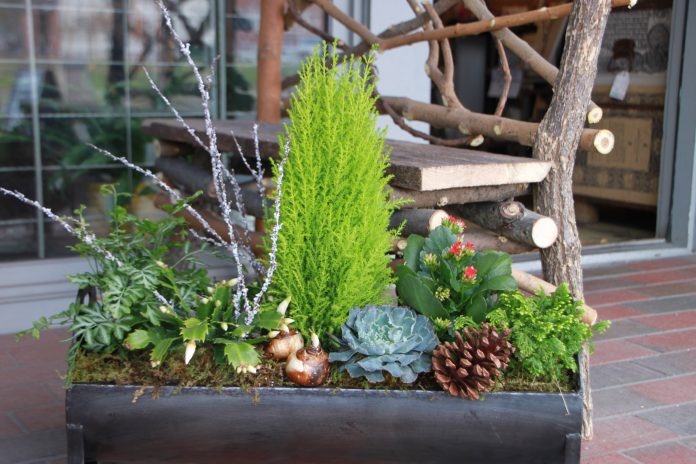 In Bloom Flowers Arranges Memories That Last
By Chris Watson
When was the last time you received flowers? How about the last time you gave them? Odds are that you remember both. This comes as no surprise to Kendra Bills, owner of In Bloom Flowers & Gifts. "Many people come into our shop and think that flowers are a short-term gift, something that is fragile and temporary. Flowers are certainly a gift, but there is nothing temporary about their impression." That feeling, that you are giving something important, something special, and something memorable, is at the core of In Bloom. With her signature smile, her creative designs, and one attentive dog Maisy Grace, Kendra Bills elevates ordering flowers from a quick errand to a lasting experience.
In the Neighborhood
Nestled in the heart of Uptown Maumee, In Bloom Flowers & Gifts is the culmination of years of friendship and dedication. "I started arranging because of my best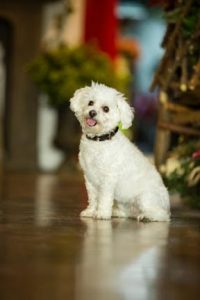 friend Amanda," recalls Bills. "She began her career at Glendale Flowers. It all started because of an event I was doing. We were working with silks then. She wanted to start her own business and after talking to my husband I jumped in." Working with a local SCORE councilor, the two florists took over a shop in Erie Michigan. "That established shop helped us get our feet wet," recalls Bills. "We were there for 2 years but I wanted to bring the shop closer to home. I have lived in the Toledo area my whole life so when the opportunity came along to move here to Uptown Maumee, I took the chance." It is a chance that has paid off. In a world of generic flowers on demand, In Bloom stands as a testament to bucking the online trend. "Each flower and flower arrangement has a purpose," claims Bills. "It will never be about throwing together some roses and gather up some cash. Flowers have seasons and people have needs. A true floral designer blends the two together. There is a difference between flowers that will decorate a grave or flowers sent two weeks after a funeral to brighten the day of the grieving. A designer knows that and works with the sender to match personality, season, need, and message."
The Response to Recipes
There are a lot of places selling flowers. Mega marts, warehouse stores, groceries, even dollar stores at key times have, at minimum, some bunches of flowers stuck somewhere near the check out. "I rarely look at those arrangements anymore," say Bills with a rueful smile. "They are exactly what you would expect from a bulk arrangement. Those arrangements may have convenience but they don't have purpose." Purpose is the prime mover at In Bloom. You won't find carnations or daisies in the cooler. "They are fine flowers," states Bills, "but they are not what we are about. A few daisies, a carnation or two, some baby's breath, and you are done. That type of arrangement is about as personal as buying a can of soup. Flowers should be much more than that." The same is true for internet providers. "A local, independent florist will always design your arrangement rather than follow a recipe. Any one of the wire services or the web based click and pay services are driven by recipes and substitutions. You may get close to what you ordered or you may not." In fact, a recent Consumer Reports report about ordering flowers online revealed significant differences between what was pictured and what was received. "You should always seek a local florist first," claims Bills passionately. "A local independent flower shop will ensure you work with a designer rather than an order taker. Plus, it is much more bang for your buck. A designer understands budget, feeling, intention, and occasion. They can easily navigate cost, availability, and personality. You will never…ever…get that by picking out predesigned arrangements in a slide show."
A Rose by Any Other Name
"Guys buy roses," says Bills with amusement. "Most likely it is what they know. That is why you will see them every holiday in abundance at the entrance to groceries. I have even seen them at gas stations."  Her on the ground observation bears out nationally.  For Valentine's Day in 2017 alone there were 198 million roses marketed…73% of those were sold to men. "Roses are beautiful and often appropriate. However, they may not be readily available," explains Bills. "Many of the bulk roses you see today are 'blown'. Blown open means that they will not last very long. This is part of what we do for our customers. We can guide and educate when they make their purchase. Flowers make a powerful impression when you give them. Who wouldn't want that impression to last a long time?" Education is central to the In Bloom experience. "We love it when people ask for our help. Because of the mass-produced arrangements people see every day, many clients have an image in their minds about what flowers should be. Our job as your local florist is to break that mold. We have clients who give simple directions, like don't make it too 'girly'. We also have clients who want something very specific, like using potatoes on Saint Patrick's Day. If it can be done we will try it. If it is too difficult or costly, we work with our customers to find an alternative." That experience is way better than a rose stuck in a vase.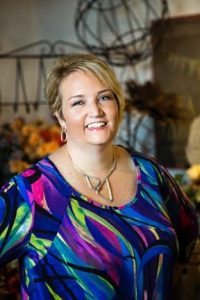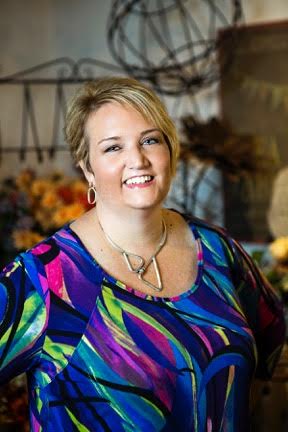 Memories in Floral Pastel
There is no doubt that both giving and receiving flowers on any occasion has impact. "Giving flowers on the high-pressure holidays, like Valentine's Day, Mother's Day and birthdays is a great gift. However, there is a much broader pallet of times when flowers would be welcome," says Bills.  As a designer she has several suggestions, like a job promotions, the completion of a difficult work project, or congratulations on life changes. Flowers are great for the week of a funeral but how about the next month? Even for casual events like dinner at a friend's house can be elevated with the addition of a small floral arrangement as a gift. "Flowers for the unexpected have amazing impact." In Bloom has been a part of many holidays, weddings, funerals, and celebrations. But it is the simple yet profound that Bills remembers most. "A coworker of my husband mentioned that she had never received flowers in her life," Bills recalls. "So, given his family connection, he sent her flowers. Obviously, she was moved and thrilled." As Bills recalls the event her voice grows soft with emphasis. "There are really two parts to this story. First, she knew that she had never received flowers before. Second, she will forever remember the day she finally got them. That is what we do."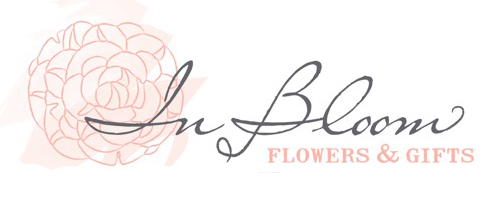 In Bloom Flowers and Gifts
126 W. Wayne St., Maumee, OH 43537
419.794.3000
kendra@newinbloom.com