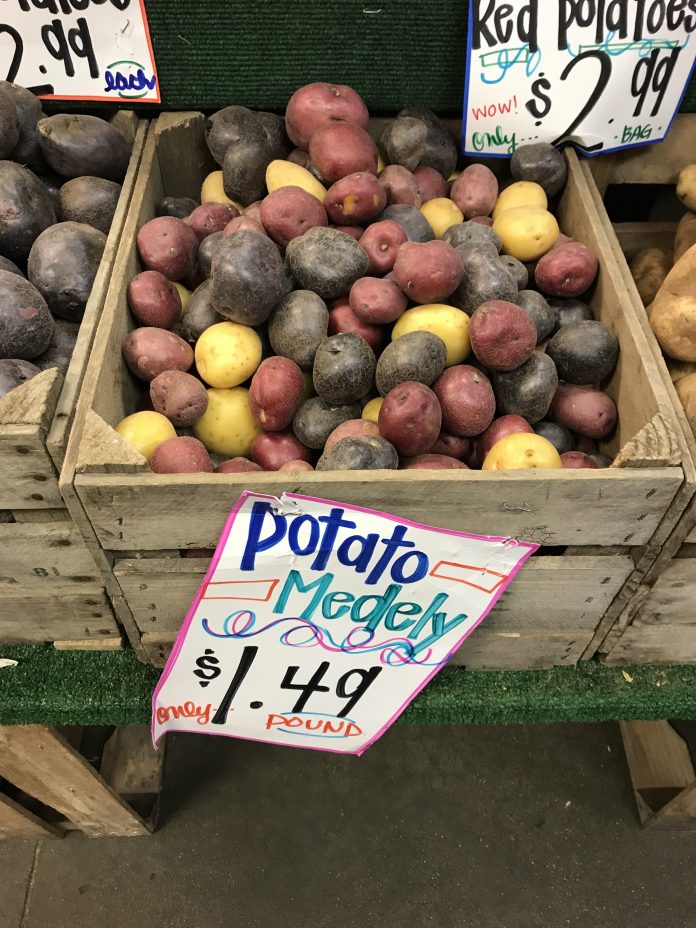 The Weather has Turned Edition
By Candace Byington and Chris Watson
It is finally cold…sort of. Even as our shoppers were out and about this week it seemed like a constant battle between "jacket" and "no jacket". Regardless, some of our favorite markets are in the full swing of fall and colder weather, offering up a wide selection of products that will warm us inside and out.  This week we visited Walt Churchill's Market, Middle East Market, Sautter's, and Monnettes.
With the colder weather upon us it's time to get back into the kitchen and bake! No more salads for lunch it's time for soup. This is the time for comfort food. If you are a baking enthusiast Walt Churchill's Market in Perrysburg is your place to find traditional ingredients as well as unique bases for vegan baking. They have their own daily made soups and fresh bread if you need a hot lunch. They also have their own olive oil blends and spices for an appetizer. Quick Italian meals are possible with healthy organic ravioli found in the frozen section.[cycloneslider id="wcm-early-nov17″]
Nestled along Bancroft Street as you close in on the university is Middle East Market. It can be easy to miss. We shouldn't. This is one of the best ethnic markets in town, which a wide variety of products that are useful in any style of cooking. An excellent meat market, great deli and bakery, plus a dry goods and staples section that is both unusual and broad. Looking for a stand out gift for a football party or thank you? Try their wide variety of candies and cookies.[cycloneslider id="middle-east-market"]
Sautter's in Waterville offers unexpected delights! If you're a baker you can find new twists on chocolate chips including white chocolate, butterscotch and Andes mint! There you will find traditional and unique pie filling from mince meat to poppyseed. In addition they have a full range of quality dry spices and single serve pie crusts. If you seek comfort food they offer flour tortillas and an assortment of raviolis. Enjoy fresh cabbage and squash as a satisfying side. In addition celebrate the season in the wine section with local fall favorites![cycloneslider id="sautters-november"]
Yes, they have fruits and vegetables. But that isn't all. Check out their deli counter along with their cheese selection. They also have a good selection of cash and carry soups for a quick meal and a lasting warm up. They are also constantly bringing in new regional products, including Cinci based Rooted Grounds Coffee and Halo Top ice cream.
[cycloneslider id="monnettes"]