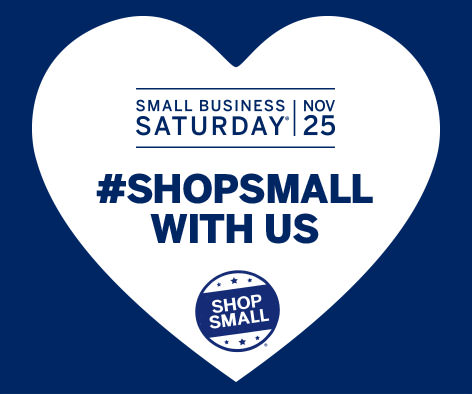 Going Local this Holiday
By Chris Watson
Black Friday. Cyber Monday. Countdown to Christmas. Halloween, Thanksgiving, and Christmas décor all in the store at the same time. Even the debate about what to call the upcoming season and whether to start the cavalcade of spending on Thanksgiving Thursday or 12:01 AM on Friday as to…technically…respect one holiday before rushing headlong into the next. This is what faces us starting, normally, right before the end of October. It is gluttonous, it is gaudy, and it is driven by mega marts and en masse producers who have no problem draining your bank accounts and maxing your credit cards.
Nestled in the midst of the frenzy of promotion and advertising is Small Business Saturday. Originally promoted and still trademarked by American Express, since 2010 American Express and publications like RightSizeLife.com have been encouraging shoppers to invest in their local community during the holiday season.
[maxbutton id="2″]
Some is Better than None
No one in the local business community expects their neighbors to spend all of their dollars, holiday or otherwise, locally. We live in a global economy where products can appear right at our doorstep, often within 24 hours of us placing the order. Our local business community also has a deep understanding of budget and stretching a paycheck. These small business owners are, after all, just like their customers. They, too, labor in an economy where taxes, health care, transportation, food, housing, education, and a thousand other tethers pull at their budget.
What they ask for isn't all of your dollars. They just want a fair shake at earning some of your dollars. In return, the small business is almost universally a better deal. Small businesses lean toward offering better quality products and services, they are more attentive during the purchasing process, and if something goes wrong, small business owners will more often than not respond with a vigor that is unheard of at a mega mart. After all, if you complain at a Wal Mart who cares? However, if you have a problem at your local butcher, they will bend over backwards to fix it.
What is Spent Here Stays Here
Besides getting better product, better service, and more satisfaction from a local purchase, studies have shown that spending dollars locally have a much greater impact on the local economy than spending those dollars at a mega mart. And any money spent online is almost always money in the wind, at least when it comes to the local economy. Consider the following three charts from the American Independent Business Alliance.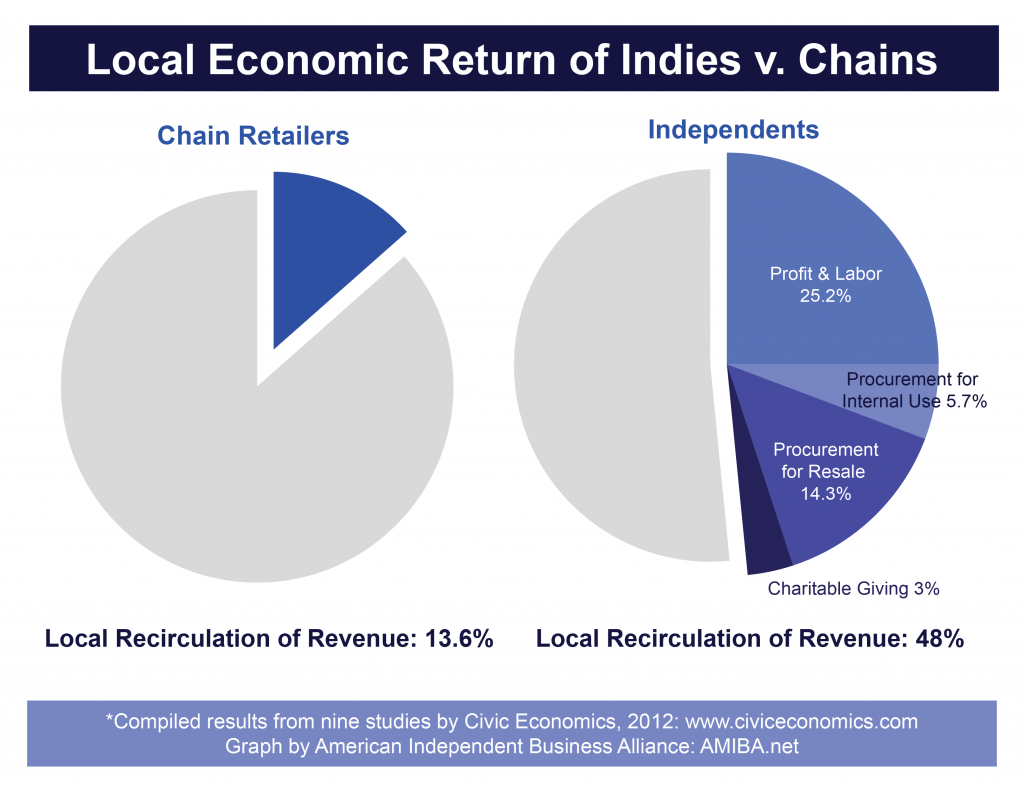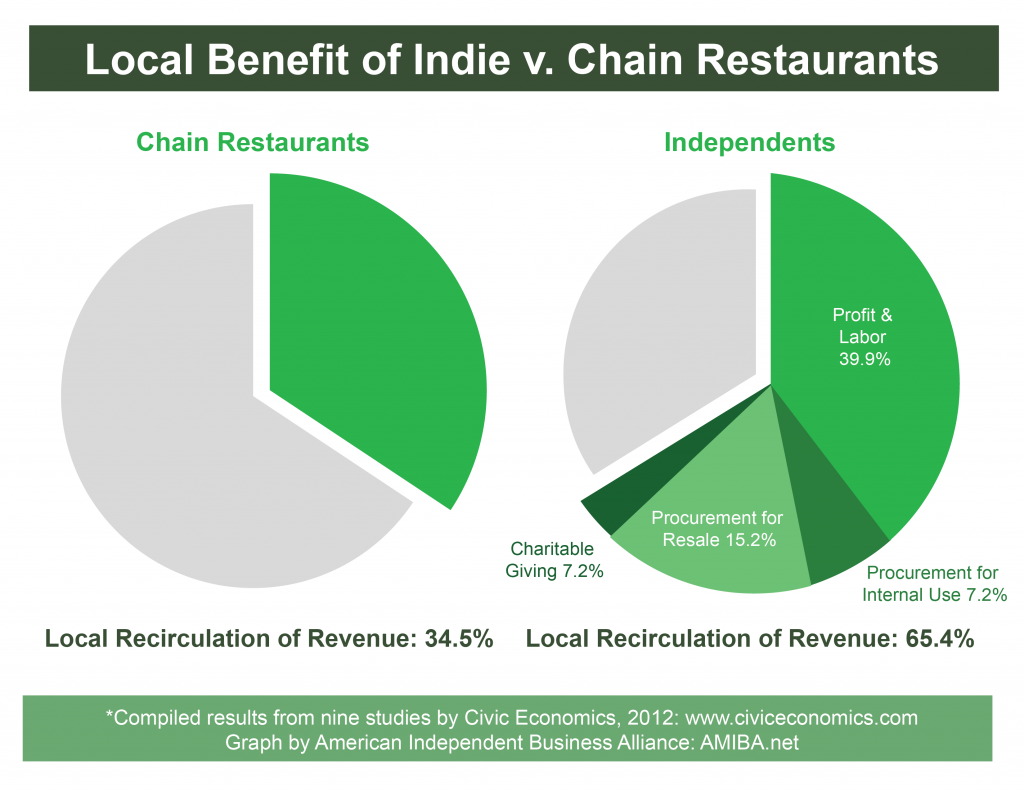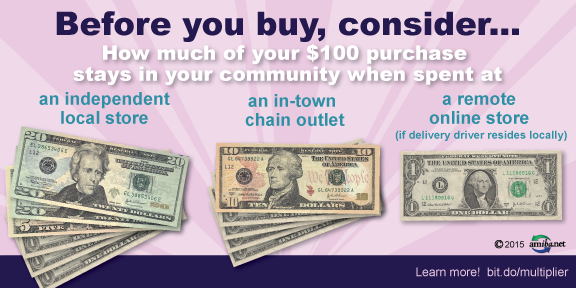 How to be Involved
Getting involved in our local business community is more about starting that it is about sustaining. Most consumers who seek local resources find the experience so rewarding that finding local options becomes reflex. Many of these local enthusiasts didn't start that way. They had to consciously decide to support our community by slowly shifting their dollars toward local sources. And, like all great journeys, they started small.
So, how do we start?  Here are some suggestions:
If you are a social media user, "like" and "share" the Small Business Saturday event being co-hosted and promoted by RightSizeLife.com. You can find the Facebook event here.
Consider shifting 15-20 percent of your total holiday spending to a local source. This can be a local market, local bakery, local retailer, local candy/confection provider, or local retail shop. Although you may find it difficult to fill your entire list from local sources it is quite easy to find a few items that can come direct from local sources rather than online or a mega mart
During the holiday and into the first few weeks of the post-holiday season, when you eat out consider a local restaurant or diner instead of a chain. Almost every national chain has a high quality, price competitive local alternative. If you and your family eat out twice a month, consider shifting this to once a month.
If you are at a mega mart consider seeking out regional products rather than national products. Many products, like salsas and mustards, breads and bakery items, even chips, dips and pickles, have close to home origins. A great example? Our own Garlic Expressions, Tony Packos Pickles, or La Perla Tortilla Chips.
Consider making at least one grocery purchase a month from a local market rather than a mega mart. Besides some fine local grocery markets, our area is also blessed with some amazing stand-alone bakeries, produce markets, and butcher shops. Buying once a month from any one of these places shifts dollars locally and may change your shopping habits in general. The same can be said for your beer and wine purchases. Our area has some excellent retailers in these areas that offer far superior selection and service than the booze isle at Sam's.
If you like a restaurant, service, retailers, or market, spread the word! If you are a social media user, "like" their page, share your like, then leave a great review! All of this only takes a few minutes and dramatically adds to the "footprint" of a local business. When you are standing at their business, feel free to check in on social media.
Join RightSizeLIfe.com as we promote and support our great local businesses. They are not just the lifeblood of our economy, they are the canvas on which we paint our culture and the foundation for which we build our community.