By Chelsea Simon
It's beginning to look alot like Christmas…or years end or football playoffs.  Lights are going up, we're decorating trees, and parties are being planned. To help get you get in the holiday spirit and stay in that mood through the new year, we are spreading some cheer with a beer guide for the festive season. It is a great time of year to explore craft beer for the first time, try new styles, and get ales for your gifts and your celebrations.
Small, Singles, and Sixes
As you prepare for your many holiday parties this month, try something new! Below you can find a wide variety of places that sell, both regional and national micro brews. They carry a good selection of build your own six pack beers. This is a great way to try a plethora of beers to find your favorite without investing too much. This is also an opportunity to swap beers with family and friends at your get togethers. Everyone can bring their own 6 pack  and exchange bottles.
If you are not familiar with craft beer yet and would like to get more adventures we have a few suggestions. Amber ales are a great introduction for your palate to the craft beer world. They are brown or amber in color and higher in malt which makes them sweeter and easier for the beginner. New Belgium Fat Tire and Great Lakes Elliot Ness are wonderful options to start exploring this style.
Another style of beer to explore are lagers. They are also high in malt with a nice balance of hops to make for a smooth drinking experience. Perfect lagers to try are Sam Adams Boston Lager and Great Lakes Dortmunder Gold. Wheat ales are also a refreshing step to the craft beer world. Light, citrusy, smooth, and often fruity, wheat ales are a great beginner's choice especially the Blue Moon Belgian White.
For those mature craft beer drinkers that are on your Christmas list there is a variety of breweries to try from.Rhinegeist Brewery from Cincinnati make a gamut of wonderful beers including Truth which is the best selling IPA in Ohio. IPA's are high in hops which make the flavor bitter in taste, and are a favorite style amongst veteran craft drinkers. DuClaw's Sweet Baby Jesus is a chocolate peanut butter stout, sure to be a unique stocking stuffer! Petoskey Brewing Company is newly distributing in Ohio and brew their beer with pure artesian spring as a source of their water for their brewing process. Super Trooper is one of their unusual creations, tasting of coffee and donuts.. Yum! Ben and Jerry's Cookie Dough is the newest beer from New Belgium, one sip and you'll be wondering if you are having ice cream or a nice ale.
Do It Yourself
If you are really stumped on a good gift to get for your craft beer drinker we have more ideas! Try getting them their very own beer brewing kit. You can get all of your materials at Titgemeier's Seed and Garden located at 701 Western Ave. Toledo, Ohio. If the receiver of your gift is a seasoned brewer, the store has recipe kits for them to brew a gamut of styles including IPA's, stouts, lagers, and more. There are also recipe and craft beer books to be purchased. Stores that sell glassware also offer special drinking glasses for certain styles of beer. Each style matches up with a unique glass to optimize the drinking experience and flavor of the brew. Beer lovers on your Christmas list will be delighted for any and all of these gifts this year!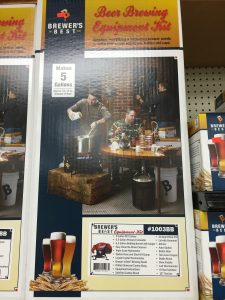 What about those seasonal brews made just for the yuletide season? Great Lakes Christmas Ale is the number one selling Christmas beer in the Toledo area so when in doubt this is a good beer to turn to. Easy drinking with a hint of spices, this beer can be found in most of your local grocery stores. For a new spin on a Christmas drink, the Jolly Traveler is a shandy with pomegranate tones along with the winter spices. A great cheerful beverage to turn to for those who may not like beer, or have a sweet tooth. Sam Adams Winter Lager is a drinkable beer, great for those new to craft beers, that has subtle hints of spice and orange peel. Thirsty Dogs Twelve Dogs of Christmas is another perfectly blended beer with spices, caramel malts and honey. Delicious and a crowd pleaser! For your IPA drinkers, Celebration from Sierra Nevada or Dad from Rhinegeist are both merry options. Those who favor stouts and darker beers can trust in Blue Moon's Cappuccino Oatmeal Stout. Delighting those tastebuds of the coffee drinker, this malty beer is sure to be a favorite! No matter the drinker's preference, there is sure to be a joyful beer for them to enjoy for the holidays.
Beers are a wonderful way to bring loved ones together. Trying new ones can be fun and entertaining. Exploring new styles and flavors will get you in the holiday spirit. Happy Holidays from all of us at Right Size Life! Cheers!
Select Markets and Stores Carrying Craft Beers