For those of us living single or in pairs it is always best to seek out opportunities to make full use of our kitchens.  Just like a larger household, the kitchen is a key ingredient to making our dwelling feel both secure and comfortable.  It turns out that there are a few basic things that, if we master the technique, greatly expand our ability to use our kitchen. One of those broadly useful tools is the vinaigrette.
Not Just for Salad
Most of us think of a vinaigrette as salad dressing…particularly Italian.  Or, if we are old enough, we think of shaking up oil and vinegar in a bottle. Certainly that is a great use for a vinaigrette. However, vinaigrettes also have a wide array of  uses outside of the typical salad topping.  They make great meat marinades, steamed, grilled or raw vegetable toppings, and can be used to pour over grilled or baked meats as a light and flavorful sauce.  In other words, they are definitely worth learning how to make.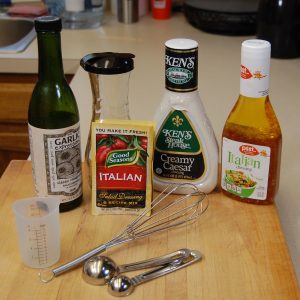 Speaking of salad dressings, most of us would eat more salad and lightly dressed vegetables at home if we had a bigger variety of dressings.  However, when our household size is small a variety of dressings, although nice to have, won't get used and take up space in our refrigerator.  But, if we master the basic vinaigrette, it turns out that we have a base that can be flavored in a variety of ways, eliminating both the bottles of waste and clutter.
A Little Math Goes a Long Way
All you need to remember for a basic vinaigrette is three to one.  Three parts oil to one part acid.  The easiest way to maintain this ratio is to use a tablespoon and teaspoon.  Use the tablespoon for the oil and the teaspoon for the acid. No matter how much, or how little, vinaigrette you want to make it is always the same:  one tablespoon of oil to one teaspoon of vinegar.
For a basic balsamic vinaigrette for two use the following:
4 tsps balsamic vinaigrette (or 2 tsps balsamic, 2 tsps white vinegar)
4 Tbs extra virgin olive oil
salt and pepper to taste
Put the vinegars at the bottom of a bowl.  Make sure the bowl is big enough to where you can whisk fast without splashing.  Slowly, as in drizzle, the first tablespoon of oil into the vinegar while whisking vigorously.  It should start to become syrupy looking after the first tablespoon or so.  It will NOT look separated but look incorporated and smooth.  Once this starts to occur you can start to add the oil more quickly while whisking strongly.  Add the rest of the oil.  Finish with salt and pepper.  It makes about 5 tbs.
Once you have the basic ratio and technique down you can begin to experiment with flavorings.  You can screw the vinaigrette Asian by using rice vinegar, a clean oil like canola, and then adding soy sauce, ginger, garlic, and a little Sriracha.  You can make a great chicken or vegetable marinade by using lemon juice instead of vinegar.  If you are feeling Mexican, try lime juice, olive oil, then add cumin and chili powder.  The possibilities are actually endless.
Variations on a Theme
Asian Vinaigrette (for two)
4 tsps rice vinegar
4 Tbs canola oil
1/2 to 1 tsp soy sauce (to taste)
1/8 tsp ginger
1/8 tsp garlic powder
a dash of Sriracha
Asian Vinaigrette # 2 (for two)
4 tsps rice vinegar
3  Tbs canola oil
1 Tbs Sesame oil (not hot)
Several turns of black pepper
1/2 to 1 tsp soy sauce (to taste)
Mexican Vinaigrette
4 tsps fresh squeezed lime juice (use one lime, supplement with a little bottled lemon or lime juice)
4 Tbs extra virgin olive oil
salt and pepper to taste
1/8 tsp cumin
1/8 tsp chili powder
Lemon marinade
4 tsps of lemon juice (about one lemon, supplement with bottled lemon juice)
4 Tbs oil (canola or extra virgin)
1/2 to 1 tsp lemon pepper
1/2 tsp thyme
salt to taste
Greek Dressing
2 tsps lemon juice
2 tsps red wine vinegar
4 Tbs olive oil
1/8 tsp garlic powder
1/4 tsp basil
1/4 tsp oregano
1/8 tsp marjoram (optional)
salt and pepper to taste
Cooking Experimentation
The recipes above are just a beginning.  So is the ratio actually.  This 3:1 ratio is what is needed to create a stable emulsion.  However, many people like things less "oily" so you can move to a 2 tsps acid to 1 Tbs oil  (which is about a 2:1) or even experiment with a 1:1 ratio.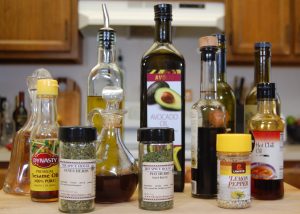 Bear in mind, however, that anything other than the 3:1 ratio will only stay mixed for a few minutes and will separate (just like the old fashioned stuff we shook up in the bottle).
Think about additives as well.  Mustards, hot sauces, cheese (hard dry cheeses like parmesan or strong soft cheeses like feta or blue)) fresh herbs, and herb blends are great seasonings for a vinaigrette.  Acids as well can be toyed with.  Besides the vast array of vinegars available, you can also use lemon, lime, orange, or pineapple juice just to name a few.  Even oils come into play.  If you notice in the one of the Asian we used mostly canola oil but also some sesame oil.  There are a huge number of "infused" oils on the market.  However, like the recipe above don't use ALL flavored oil.  It will be way to strong.  Just use a small amount of the flavored oil and balance the rest of the oil content with a clean olive or cooking oil.
Start experimenting with vinaigrettes.  Try something as simple as the balsamic we demonstrated and pour it over steamed broccoli, cauliflower, or asparagus. And stop buying the "lightly sauced" frozen packs of vegetables.  Just buy plain frozen vegetables and lightly sauce them yourself. It is healthier and in almost every way better. Besides a marinade for meat try making a strong flavored vinaigrette and spoon a small amount over grilled meats or fish.  Once you see how quick it is to make you will want to expand using vinaigrettes.  They are healthy, clean, and above all, easy.