By Chris Watson
For some reason we seem to isolate certain snacks to the holiday season.  One of everyone's favorites, the seasoned oyster cracker, is such a treat.  Also referred to as ranch crackers or "dill" crackers, these awesome snacks have about 1000 versions with recipes gracing every church or charity cookbook.  They are addictive, easy, and for some reason relegated to the holiday playbook.
Here are the three great things about seasoned crackers, anytime of the year.  First, we can make them in small batches.  No one actually does make them in small batches but it can be done.  They store very well in a ziplock bag or plasticware so there is no reason to make a smaller batch.  However, if so so choose you can go with a smaller, lighter recipe.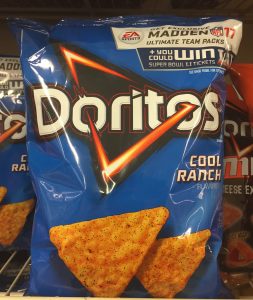 Second, the recipes listed below are a significant reduction in oil from many of the original recipies. They also return to the fundamental process of all of these recipes:  BAKING. There are several recipes floating around that don't' require baking but leave them by the road.  It only takes 30 minutes and by baking the crackers at low heat rather than just letting them soak the reduction in oil (and therefore calories) doesn't impact the flavor.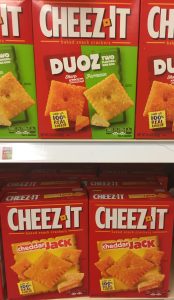 Third, these snacks represent the ultimate in comfort food.  Like seasoned croutons they have a bunch of uses, assuming they last past the snacking phase.  They are great with any soup, chili or on a salad.  If for some reason you want to crush them up they make a great topping for baked gratins and mac and cheese.  Or, just sit in front of the TV and binge watch The Walking Dead with a bowlful and be thankful you don't have to spend winters fending off zombies.
Anatomy of a Snack
Most snack cracker recipes call for 12 oz of snack crackers, which is about 5 cups.  You don't need to buy fancy or name brand here. Like Chex Mix buy as cheap as you can get. The cracker is just the delivery vehicle.  The same is true for the ranch dressing packet.  Any ranch dressing packet will do and the name on the front is immaterial.
Twelve ounces of crackers is 5 cups…we measured.  If you find a way of buying oyster crackers in larger volume you can just measure out five cups.  However, on the market a series of bagged crackers have appeared recently in nine and ten ounce bags.  This is actually a good thing for it gives us an important option.  For a lighter version of these crackers use TWO nine ounce bags to the same seasoning.  We tried it both ways and both were just fine to get us through 4 episodes of Breaking Bad.
Finally, the lemon pepper, dill, and garlic can all be adjusted.  The garlic can be eliminated altogether if you don't want it.  You need a little dill but it can easily be cut in half, as can the lemon pepper.

Snack Crackers, Original Recipe
Prep time:
Cook time:
Total time:
Normally a holiday favorite but excellent any time of the year here is a right sized portion of the "dilly" or "ranch" cracker favorite
Ingredients
12 oz bag (or 5 cups) oyster crackers
1 pkg dry ranch dressing
¼ cup canola oil
¼ tsp lemon pepper
¼ tsp garlic powder
½-1 tsp dill weed
Instructions
Preheat oven to 250 F
Mix seasonings, dry dressing mix and oil together until smooth
Pour over crackers and coat completely
Bake for 20-30 minutes on a cookie sheet until lightly brown and dry
Completely cool before storing in Tupperware or plastic resealable bag
Crackers last a long while and the recipe is easily doubled
Snack Crackers, Lighter Recipe
Prep time:
Cook time:
Total time:
Normally a holiday favorite but excellent any time of the year here is a right sized portion of the "dilly" or "ranch" cracker favorite. This uses more crackers to the same seasoning mix.
Ingredients
2 9 oz bags of oyster crackers (7-8 cups)
1 pkg dry ranch dressing
¼ cup canola oil
¼ tsp lemon pepper
¼ tsp garlic powder
½-1 tsp dill weed
Instructions
Preheat oven to 250F
Mix seasonings, dry dressing mix and oil together until smooth
Pour over crackers and coat completely
Bake for 20-30 minutes on a cookie sheet until lightly brown and dry
Completely cool before storing in Tupperware of plastic resealable bag
Crackers last a long while and the recipe is easily doubled