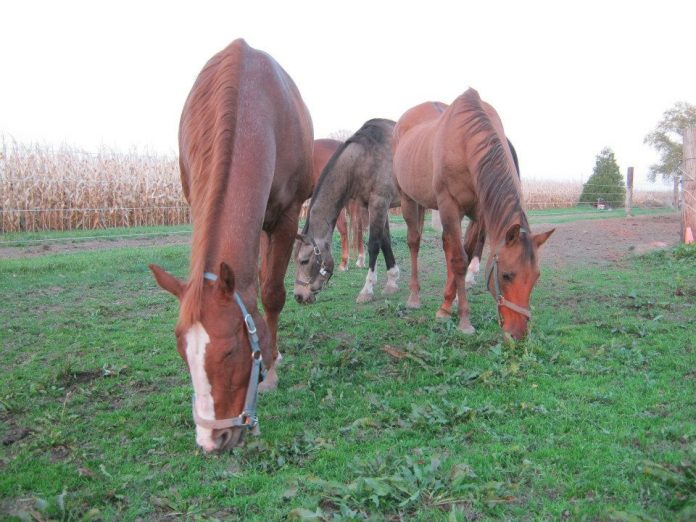 The Healing Barn Opens its Doors to Horses and People
By Chris Watson
Nestled near Millbury Ohio is a farm with a large barn. Inside of this barn are horses….and one donkey. These horses are healthy, happy, and well cared for.  So is the donkey. That is the end of the story. Many of these animals didn't arrive at the barn that way. They needed help…they needed healing. And that is exactly what horses get at The Healing Barn…the help they need.  For that matter, so do the people who work there.
"My dream was to build a barn to rehab and rehabilitate horses," says owner Nancy Swigart. "At first I thought it would be simple.  We would build a barn, rehab horses, then find them good homes. It turns out that the horses didn't want to leave. Then we started getting calls about neglected or abused horses and we began accepting rescues. That ended up the dominant part of our service. We now have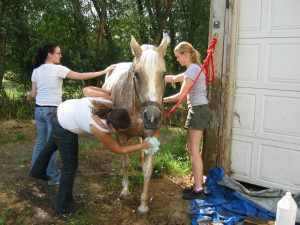 19 horses in house."
Nancy, a nurse in the Mercy Health System, has been in horses for 45 years. The barn came along when their daughter, Corri, got interested in horses. "We bought a 2-year-old gelding but part of the deal was the gelding's mother. She was a great old girl but it meant we went from a horse to a group." That was 22 years ago and Nancy and her family have been part of the equine landscape of our community ever since.
Healing Horses and the People Who Love Them
"It is no secret that I got involved with The Healing Barn as part of my own journey to health," says local author Kelley Meister-Yetter. "I have volunteered at The Healing Barn for over 10 years and now I lease a horse."  Leasing is one of the many ways to help the variety of horses currently housed at the barn. "I still get to take some ownership of my horse, including his care and upkeep and of course the joys of riding."
Kelley knows all about the healing power of animals. As a childhood survivor of abuse, Meister-Yetter has been not only candid about her recovery journey, but a advocate for the power of animals in the healing process.  Many of the stories in her three books are about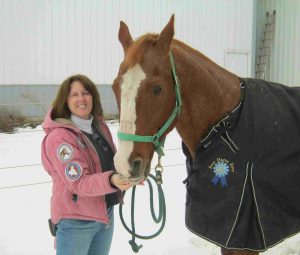 the barn and, as she says, the characters who reside there. "Well, they are characters," she says with a smile. "Take my horse, Bit. He is a stinker. We have a standing disagreement.  I want him to experience training as a horse. He is interested in grass and apples. The problem is that we are both bossy. We are a work in progress."
Besides Meister-Yetter, who is now the Event Coordinator for the Healing Barn, many people volunteer to work with the animals. "Our volunteers are characters as well, and like all characters they have a story. Yet, when they come to our barn to help with our horses they find out a lot of things about themselves.  Good things. True, we put our volunteers to work but it helps the horses have been abused with socialization and trust. Actually, it helps our volunteers as well. In other words, a win-win."
It is easy to volunteer.  Start by just showing up. The standing time for working with the horses is Saturdays, 10-12:30. "I have been doing it a long time,"  says Meister-Yetter. "We all get a surprising amount done while having a great time with the animals and each other. It is a simple and direct way to help with these rescued animals."
An Open Barn and House
"There are a lot of ways to help with our mission," says Swigart. "The first way is to come out to our open house. This is the 7th year we have done one and it is always a great day."  This year's open house is September 30th from 1-4 PM.  "The barn will be open and all of our animals will be there. It is a great family environment to introduce kids to a working farm environment." Besides the main attraction, which is the animals themselves, The Healing Barn will have refreshments, a bouncy house, entertainment by local favorite DCTaylor, a silent auction in support of the barn, and pictures with Donkey Jack.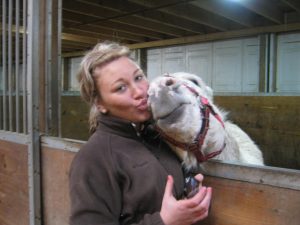 No visit to The Healing Barn is complete without spending time with Jack. "Ah Jack," says Swigart. "Jack is definitely all donkey. Jack has his own sponsor, whom he writes to every month. His spelling is pretty atrocious but his messages are heart felt."  Besides the open house there are many ways to help with the mission of rescuing and rehabilitation horse.  Like Kelly, you can lease a horse. You can also sponsor a horse or Jack. Finally, you can give straight donations to The Healing Barn which is a registered nonprofit.
"No one in our family gains income from this work," says Swigart. "This is a place where we care for horses and the people who grow to love them. Everyone who comes here, equine or human, has found their way to this space for a reason. Sure, we help animals back from trauma. We also help every single person those animals come in contact with grow and heal as well."
Truly, a barn that heals.
The Healing Barn Open House
September 30th, 1-4 PM
[su_gmap width="400″ height="250″ responsive="yes" address="27731 Bradner Rd Millbury OH 43447″]
27731 Bradner Rd
Millbury, OH 43447
Help Line 877-300-2638
Kelly Meister-Yetter
Books:
Crazy Critter Lady
No Better Medicine
Sorry Honey, but the Critters Come First