By Candace Byington
Halloween traditionally has been associated with children. Now it seems like a month long vacation before the pressures of the Christmas season. Halloween has definitely evolved.
When I was a child it was a time for dressing up and receiving candy treats as bribery to not play nasty pranks on my adult neighbors. We wore handmade costumes. If we wore store bought costumes of popular characters, they came in a box with a mask and the costume was a plastic one-size-fits all smock. Halloween was a fun time of the year that we looked forward to. It was one magical night! However during my life I have seen this holiday shift from a one night celebration of cute kids and candy to a time for adults to transform into their wildest daydreams and celebrate for an entire month.
The Trasnmorgraphication of a Holiday
During my first halloweens in the late seventies, adults rarely dressed up to pass out candy. Nor did they decorate their lawns. In the small rural suburb where I lived there was at least one hastily carved pumpkin on the porch and a few enthusiastic neighbors had their teenage children hide in the bushes to scare us. Candy was about quantity rather than quality and we knew which houses traditionally provided "the good stuff".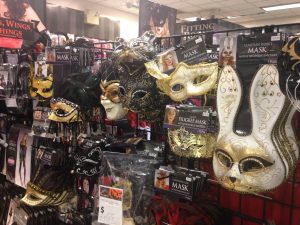 In 2016, lawns are decorated with anatomically correct zombies, inflatable witches with poor driving skills, fake cobwebs and spiders that look like leftovers from a B grade movie and intricately carved pumpkins with LED lights instead of a constantly blowing out candle. Teens are likely dressed up and at a party with their peers instead of out stealing candy. These days the adults may not even be at home for trick or treating with the rise in haunted attractions, costume contests and Halloween celebrations for the 21 and over crowd. The kids may be trick or treating in the daytime or in a church parking lot for a trunk or treat where they might receive healthy snacks instead of candy. In the twenty first century the kids seem to be getting tricked with toothbrushes and sugar free gum while the adults are enjoying all the treats.
Why has this holiday become more focused on adult fun and debauchery, especially over the last thirty plus years?
Halloween as the New Christmas
One reason may stem from marketing. In the early eighties Coors beer launched an advertising campaign with the hope that their product would synonymous with Halloween. They wanted to create their own "beer holiday" like St. Patrick's day. They created ads that featured horror tv show host Elvira and Coors own take on the classic werewolf, the Beerwolf. It must have worked because now Halloween has become a month long party.
The holiday now conjures images of adults in costumes mingling with other adults drinking adult beverages with the intention of mischief. Many businesses including retail stores encourage their employees to dress up (I've been a witch at the office party and Macy's.) and offer rewards for the best costume. Nightclubs and bars also have lucrative prizes for their Halloween costume contests. There are other excuses to get dressed up though.
Destination Halloween
During October there are haunted attractions open on the weekends. In the greater Toledo area there is the Garrison Ghost Walk at Fort Meigs, the House of Damnation in Maumee, Fremont has the Haunted Hydro, Toledo has the Haunted Planet Experience and Cedar Point is open for Halloweekends. In fact many of the haunted attractions nationwide can be found at www.hauntworld.com. With all of these opportunities to dress up it's no wonder that the average person is projected to spend $82.93 on costumes this Halloween.

The expansion of internet usage over the past twenty years may also be a reason why more adults are celebrating. There are countless websites featuring costume, decoration and recipe ideas. Pinterest alone boasts over a thousand boards for Halloween ideas. Other sources include etsy,Instagram,ebay, Martha Stewart, HGTV, and good housekeeping to name a few.
It is likely that the main reason that Halloween has grown in popularity with adults is because the holiday is focused on fantasy. This is a chance to put on a costume and become someone else. It is a chance to role play, act out hidden desires and break out of one's shell. With the pressures of adulthood-career, bills, the election, relationships-the opportunity to escape reality for one night becomes more appealing than in childhood. For this reason it becomes clear why the holiday has been stretched into a month long celebration. Adulting is hard work!
The tradition of celebrating Halloween began with the ancient Celts. They made bonfires and celebrated "Summer's End" or Samhain. It seems that now in the early twentieth century we have embraced a similar attitude. We come together for a month to celebrate Summer's End and be carefree before the expectations and chill of winter arrive.  Listed below are a few resources for local Halloween festivals, events, and attractions.
Halloween celebrations will continue to evolve. Children will grow into adults and make new traditions for the holiday. Let them worry about how to celebrate summers end. As an active adult we will be to busy enjoying our own tricks and treats.
Zombie Crawl:  Adams Street Corridor, Toledo
Toledohauntedhouses.com:  A full and spooky event calendar
Candace Byington is an artist and graphic designer from the Greater Toledo area. She enjoys camping, hiking, and cooking. Her artwork can be found at www.etsy.com/shop/candita74 and
http://www.redbubble.com/people/vivacandita. Follow her personal blog at https://candacerbyington.wordpress.com/ Ms.Byington can be contacted at candacerbyington@gmail.com.