By Chelsea Simon
The leaves are changing, pumpkin is now the only flavor of coffee or beer that you can get, and that means one thing: football season is upon us.
If you are like me you enjoy watching an occasional game of pig skin. However, you may have a spouse, coworker, friend, sibling, who takes the game a too seriously. Their level of zeal makes the season almost unbearable. They have embraced the the full meaning of the term "fan". They have become fanatics.
It Is Only A Game…NOT!
Not only is it a necessity to watch their own team play, but they need to witness every single snap of every single game played that week. They also take part in fantasy football which is when a group of 8-10 friends get together to create an imaginary team of NFL players to play against each other all season long for money. In truth the money is secondary to getting to spend time doing something with football.
Then there's Madden where they can play football on their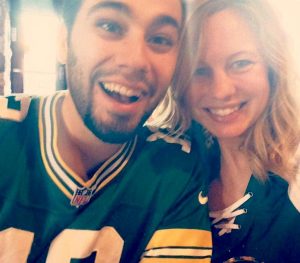 Playstation for hours on end. Beyond that, there are the documentaries of players, ESPN, sports radio.. It seems endless. The 2016 NFL season is upon us, so I vow to you to offer my tips in getting through this year with without harming your loved one, and even enjoying yourself. The rules are simple: join in, explore new places, and cultivate your friendships.
Tips to survive
If you can't beat them, join them! It is important to remember that it is completely acceptable to start drinking beer before noon on game day. No one will judge you. Speaking of no judgement, apparently no one counts calories during football season so take advantage of the yummy snacks. Furthermore, you are going to sit through at least one game this weekend, so take the time to learn more about the game and players via the morning Sportscenter or online. When you understand a little bit more about what's going on on that screen, and you develop admiration for certain players, you can even look forward to your Sunday afternoons.
Explore new places. Take a trip to the city of your favorite team. We are going to take a trip to Lambeau Field and visit Wisconsin which is a place we have never been before. Even explore other cities with pro teams on a more manageable trip like Cincinnati, Cleveland, Detroit. Even if you don't have tickets to the game, go anyway and check out the local cuisine and events, then find a local pub to watch the game. You will more than likely be surrounded by others equally excited about the team you love which. See the sites, catch a game, enjoy!
Build your network of friends. Per one football fanatic there are usually an entourage of enthusiasts behind him. Form rapport with them, bond with their wives, find common ground and make new friends. Also, invite a couple of your friends and family out for insurance you will have someone to speak to during those games you don't care about all that much.
As I mentally prepare for the season of my betrothed, I hope I can help you too enjoy this American pastime. While you join in and cheer, travel new locations, and bond with friends I hope that you can enjoy the season of football…I mean "fall".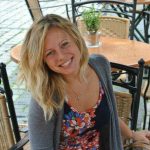 Chelsea Simon is a Toledo native, a graduate of Central Catholic High School and the University of Toledo. She is married to Clayton Simon with whom she shares two dogs together, Penny Lane and Lambeau. Chelsea enjoys spending time with her family, friends, and pups, reading, running, and brewing beer at home.