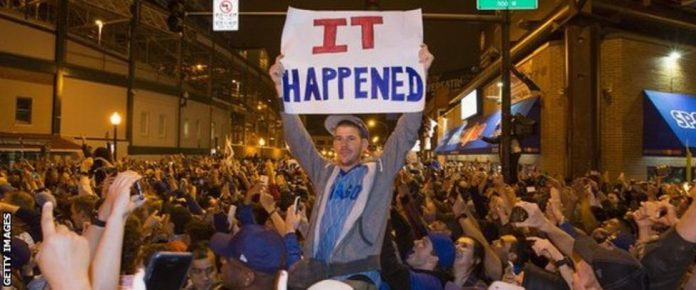 By Chris Watson
It was a perfect World Series. First, two teams came together in the final days of October who haven't gotten to play that late in the season very much.  These teams have spent decades waiting to get sprayed by cheap champagne. Plus both towns could use a boost. Plus we needed some better, "feel good" news considering the headlines of late. Plus baseball needs series like the last couple, instead of the robotic, same team, video game like matchups of the late 90's.
Chicago and Cleveland did not disappoint.  Yes, that means you Cleveland fans.  Your Boys of Summer played a great series. Even in Game 7, when it looked like they were gone, opening the bottom of the 8th 3 runs down, you manage to tie the game.
Now Mother Nature gets into the act, providing a rain delay prior to going extra innings. She would only make Cubs and Indian fans wait because she knew they could take it…these are people who have waited a long, long time for a Game 7.
Back to Cleveland.  Talk about a shining example of heart.  Even after going down two additional runs in the top of the 10th you battled back and put a run on the board giving us a 8-7 game, ending this "little guy" series playing the full 7 games with a single run victory in extra innings.
I am not, in any way, degrading the victory of the Chicago Cubs.  They played brilliantly and deserve this win as much as any team…perhaps in the history of baseball.  And they know it.  
So it is to Cleveland that I must return.  They gave us a good…no a great series. This wasn't just a few games. This was a Battle Royal between two teams that really, really wanted a world championship. And although the Cubs brought their A game, so did the Indians.  They kept us on the edge of our seats…right up to a magical and unexpected extra inning.  And even up to the moment of the last out, they gave us hope.
In truth, as the curtain falls on a great baseball season, I am a happy baseball fan.  Even though I was not invested in either team, I unrealistically wanted them both to win.  I realize, of course, that their can only be one winner.  Or perhaps a better way of saying it is that their can only be one victor.  For Chicago fans the wait is over.  For Cleveland, there is nothing to be ashamed of.
The end of a baseball season always signals a couple of things.  It signals, of course, the true end of summer. Now begins cold days, cozy nights, and the slow march through winter. For those of us who grew up with and still love baseball it can be a dark time; a time of void and patient waiting.
But the end of a baseball season also signals something else…something very baseball.  Hope. Cubs fans spent decades hoping,each winter, that come spring their team would rise from the ashes and climb out of the cellar.  Their championship proves it is possible.  So Cleveland, there is still hope that your team will, too, celebrate a series victory.  And the same sentiment applies to you, Minnesota.  The Twins finished this season with a depressing 59 wins.  But Minnesota, there is always next year.  Hope is what baseball is all about.