One of the most delightful things to add to any meal, breakfast, lunch, or dinner, is a biscuit. And by biscuits we mean the old fashion, baking powder, buttermilk biscuit, not canned or frozen imitations. The problem is how to make a biscuit at home that is light and tasty and, more importantly, how to make just a few biscuits at a time.
But I Don't Bake
Even if you are in the "I don't bake" category of cooking learning how to make biscuits is less about baking and more about culinary skill set. They go with anything and once you see it done they are truly easy. Plus, if you really want to impress a friend or a spouse learn how to whip up a small batch of biscuits. It takes practically no time and the rewards are well worth the learning curve.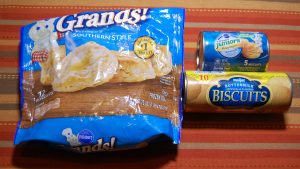 Most people still think of biscuits as the purview of southern cooks and restaurants. Or, if you haven't been privileged to taste real biscuits, you think that biscuits only come from a frozen bag or refrigerated can. These are, at best, weak substitutes. Likewise, they tend to be packaged too large for our size household. Like most things that need to be scaled down to right size, learning a scratch alternative is our best option.
Biscuit Basics
Buttermilk is the key to a good biscuit. The problem is that you only need ½ a cup and buttermilk usually comes in pint or larger containers. Not to worry, buttermilk freezes incredibly well. Just get a couple of 1 cup plastic containers and freeze the buttermilk that you don't use in ½ cup servings. When you think you want to make biscuits just thaw one of the ½ cups. And don't forget that other things use buttermilk as well, like pancakes. Biscuits are a 2:1 ratio of flour to buttermilk but pancakes are traditionally 1:1 so freeze away and have scratch made pancakes. They are even easier than biscuits and another sure fire way to please a partner, friend or guest. In other words, having a little buttermilk frozen is actually a good thing.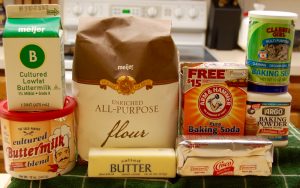 A word of caution. You can use powdered buttermilk. It is not as good as regular buttermilk but it will do in a pinch. Just make sure you follow the recipe when adding the powder to the water and get the made up buttermilk as cold as possible. The same is true for the butter. It should come right out of the refrigerator before being cut up in the flour mix.
Less is More (Don't Over Mix)
The basic technique is quite simple. Place all of the dry ingredients in a bowl and "cut" in the cold butter and shortening. By cutting we mean rubbing both fats through the flour until the dry mixture is crumbly. Try not to overwork. There should be a few butter pieces in the mixture. Once the dry mixture is done pour in the cold butter milk. Mix very gently until the dough starts to form a ball. Then dump the mixture onto a floured cutting board and kneed a few times (I actually count to five).

Biscuits for Two
Prep time:
Cook time:
Total time:
Biscuits are easy to make and are well worth the effort. This recipe cuts down on the left overs and is so quick you will want to make them all the time.
Ingredients
1 cup flour
½ cup buttermilk (chilled)
2 tsp baking powder
⅛ tsp baking soda
½ tsp salt
1 tbs butter (chilled)
1 tbs shortening
Instructions
Preheat the oven to 450 F
Put all dry ingredients in a bowl and mix
Cut in the shortening and butter into the flour mix by rubbing throughout the mixture. It should be crumbly. DO NOT overwork.
Add buttermilk and mix just enough until the dough forms up
Remove the dough onto a floured board and kneed 5 times until the dough is complete formed. Again DO NOT over work
Pat the dough to ½ inch thick and cut out biscuits with a 2 inch cutter (should make about 5)
Bake for 14 to 20 minutes. Most likely it will be the lower time but it will depend on your oven and the thickness of your biscuits
Piping Hot and Delicious
Speaking of preheating, get your oven really hot. The hotter the better. Depending on your biscuit thickness and oven the lower time limit is more likely what you will need. Remove from oven and serve immediately. For the record, these do reheat very well.
Soups, salad night, stews, BBQ, with sausage gravy, or just plain butter and honey, biscuits are wonderful. Making them in our kitchen is about as comforting and homey as we can get. Try making some biscuits for a meal soon and discover how easy and rewarding this simple bread can be.