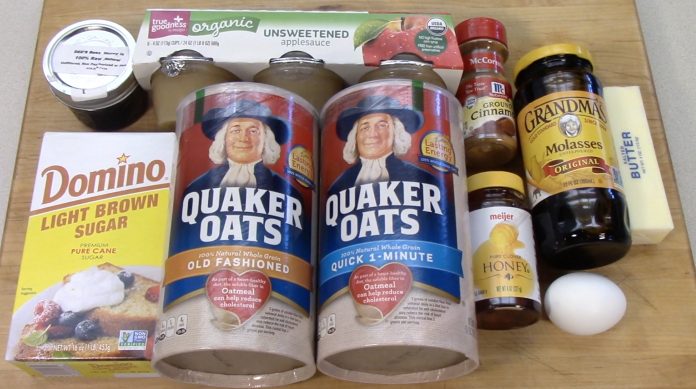 By Chris Watson
There isn't a family, large, small, or solo, that doesn't struggle with breakfast.  Conventional breakfast can destroy a kitchen and take an hour to prepare only to be devoured in seconds before a busy day.  So, let's tackle a breakfast staple that won't destroy the kitchen, can be easily reheated, and if made right, is healthy and tasty:  oatmeal.
One of the great trends in the last few years is the move back to hot cereals for breakfast, especially in diners and local coffee houses. For many of us who grew up on the mushy, flavorless porridges that were the domain of the instant and microwave world, this isn't so much a return to an old favorite but a discovery of a lost original.  Many exciting, natural, often times organic, gluten free, and even locally produced cereals are now widely available at the grocery.
Time Takes Time
The problem with these longer cooking, more natural cereals is time.  They do not take 1 minute in the microbubble.  Regular, old fashioned oatmeal in particular can take the better part of 30 minutes and steel cut oats even longer.  The solution to this breakfast dilemma is to make your breakfast the night before.  The way we accomplish that is with a loaf pan.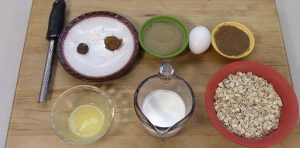 Baking oatmeal has three major advantages.  First, it's texture is much more palatable, more like a casserole than a sticky soup.  Second, it is much easier to clean up after.  The pan you bake it in is comes away fairly clean and the bowls you serve in don't have the hard, sticky paste stick to their sides.  Finally, it is in easy to reheat or take on the go.  Baked oatmeal can be placed in a microwave safe container and heated at work during a short morning break.
Let's talk ingredients.  Most recipes for baked oatmeal call for quick oats, or 1 minute oats.  You can certainly use those.  However, you can also use the regular, old fashion oats, which have a firmer texture.  Yes, they will not stick together in their baking process as well as quick oats.  However, the final product will be more like a cereal and less like a casserole.  Experiment to find which texture and flavor you like.
The Basics
Baked oatmeal recipes all require  the same basic ingredients:  oats, butter or oil, milk, a sweetener, an egg,  and some baking powder.  Many use honey, maple syrup, or molasses as the sweetener.  Since the amount is so small you can substitute these sweeteners directly for brown sugar. You can always substitute coconut oil for the butter and a milk alternative for the milk.  The egg is just a thickener so an egg substitute will do as well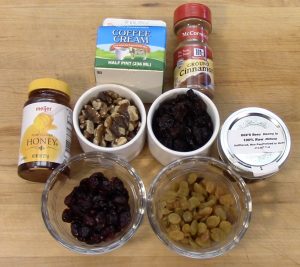 This recipe calls for applesauce. Many baking recipes call for applesauce as a moisture source and sweetener.  The problem with applesauce, like all things in our size household, is what to do with the leftover product. Although I normally wouldn't recommend individual packaged product, in this case it is perfect.  "Cups" of applesauce, even organic unsweetened applesauce, are available in most large markets.  You can also use an equivalent amount of mashed banana.
We are presenting a basic recipe here that is very basic.  However, you can add any kind of dried fruit or nut you want to this recipe in reasonable quantities to enhance the oatmeal.  Good suggestions are raisins, dried cranberries, dried cherries, dried blueberries, and nuts like pecans.  Many of these ingredients are now available in local markets in their bulk section, preventing us from buying more than we need for this smaller recipe. 
This entire recipe is very easily doubled.  You can also use standard glass casserole dishes.  There are many "smaller" sizes that include lids available in stores.  You don't have to match the sizes exactly.  A standard loaf pan is, in general, 36 or so square inches.  An 8 x 8 pan is 64 square inches.  Just check  the dimensions on your small casserole and get close, then check the dish EARLY in the cooking process to keep from burning.
Breakfast will always be a challenge.  Baking oatmeal takes at least some of the morning eating frenzy off the plate.  With so many dried fruits, alternative and natural sweeteners, and of course fresh fruit additions,  baked oatmeal can provide excellent taste and seasonal variety.  So bake some oatmeal and get out of the habit of ripping open packages or, worse yet, driving up to a window for breakfast.  

Baked Oatmeal
Prep time:
Cook time:
Total time:
Baking oatmeal is an easy way to make a repeatable breakfast the night before. Served like regular oatmeal this is a healthy alternative to packaged cereal of any kind.
Ingredients
1½ cups oats
1 egg beaten
2 tbs butter, melted (or coconut oil)
½ cup milk (or milk alternative)
⅛ cup brown sugar, packed (2 Tbs)
¼ cup applesauce
½ tsp baking powder
½ tsp cinnamon
¼ to ½ tsp nutmeg, freshly grated if possible (optional)
¼ tsp salt
Instructions
Beat egg, sugar, and butter together until smooth
Add milk and applesauce and whisk to combine
Add the rest of the ingredients except the oats and whist to combine
Add oats and stir to moisten
Spray a standard loaf pan down with cooking spray and pour in the mixture
Bake at 350 for about 20 minutes until brown on top and firm. If using honey, maple syrup, or molasses instead of the brown sugar reduce the oven temp to 325
Cool 5 minutes before serving
This recipe can be easily doubled. Use a 9 x 9 pan. Cook time may increase to 25 minutes