Nothing is better than something scratch baked. Even with a plethora of great commercial bakeries, there is something about baking in our own kitchen that truly lets us claim a space as home. Unfortunately, most of us living solo or in pairs have dropped baking from our lives almost entirely. The reason is simple: the result of baking is too much food. However, with a couple of basic concepts we can cut down at least some recipes to sensible quantities and put baking back in our lives. Let's go to the kitchen and make universal favorite: brownies.
Tools for the Job
The first thing we have to do is find the right size pan. Many baked goods call for a 9 X 13 pan. I don't recommend you even attempt to cut down those recipes. However, there is great opportunity with recipes, like most brownies and snack cakes, that call for an 8 X 8 pan. It is relatively easy to cut those recipes in half as long as we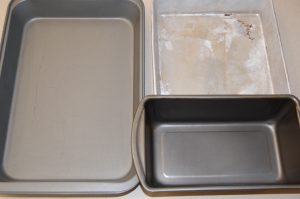 have an 8 X 4 pan. Many of us already have one in our kitchen. It is called a standard loaf pan. Most loaf pans are 8 X 4. If you don't have one they are available at any dollar store, mega mart, or for that matter, garage sale.
Speaking of right size we tend to think of baking a big mess with lots of large bowls that are hard to clean up and big measuring cups that make small quantities hard to measure and see. However most kitchen sections of stores now carry a wide variety of smaller measuring cups, spoons, and mixing bowls. They aren't very expensive and make baking on the smaller scale much easier. It is worth the investment.
Fractions?!?
Much of the time when it comes to measurements it is easy to cut things in half. Don't panic, we don't have to go back to Middle School and remember every rule for fractions that we hoped in 6th grade we would never have to use again. Nor does cutting a recipe in half require a calculator. For most measurements, ½ a cup just goes to ¼ cup etc. Many recipes in the 8 X 8 size call for ⅓ of a cup, usually of fat or oil. When dealing with thirds you just have to change the quantity to tablespoons and teaspoons. It might seem like you are counting a lot but it is well worth it. Basically half of a third of a cup (or ⅙ a cup) is 2 Tbs and and 2 tsp.
Eggs are always a challenge to cut in half. It turns out that they are easier than you think. One egg is about a quarter of a cup. So, if you need half an egg, crack into a small bowl, whisk, then remove two tablespoons.
Finally a note about baking time. Start with half the time. It will normally take a bit longer than half but by checking half way in you will have a better chance of not overcooking your dish. Oven's may vary, of course, and like all baking it will take time to develop a good feel for your oven and equipment when it comes to bake time.
Mixes are Still In the Mix
There are some great mixes out there. They are made from high quality ingredients and in many cases are perfectly fine. If you have special needs, such as gluten free, mixes are another great option. However, they usually make a 8 X 8 pan. This will keep most of us from buying and/or making them. Armed with our new knowledge, however, mixes are still in the…well…mix.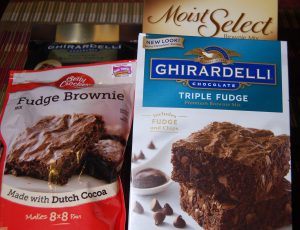 It is possible to cut mixes in half. For this you are going to need a scale. Kitchen scales don't cost very much and they come in handy for a variety of tasks. The easiest way to cut a mix in half is by weight. And don't trust the box. Put your bowl on the scale and zero out, pour the entire mix in your mixing bowl, then remove half the mix back into the original packaging and seal. Make the mix as directed, cutting the add ins by half.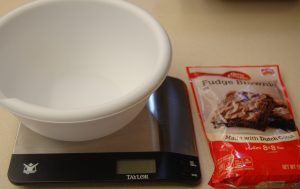 Brownies for 2 (melt version)
Preheat oven to 350F and grease a 8 X 4 loaf pan
1/4 cup butter
2 Tbs milk
1/2 cup chocolate chips
1 egg
1/2 tsp vanilla
1/2 plus 1/3 cup sugar
1/2 cup flour
In a medium sauce pan melt 1/4 cup (4 Tbs or 1/2 a stick) of butter. Add the milk and heat for 1 minute additional, then remove from the heat. Add the chocolate chips and let melt completely. When melted and cool add the egg, vanilla, and sugar and stir in. Gently fold in the flour and spoon into the loaf pan. Bake for at least 15 minutes (check to see if a toothpick or knife comes clean) and cool before serving. Top with frosting, powdered sugar, or everyones favorite, ice cream.

Brownies for 2
Prep time:
Cook time:
Total time:
An easy, one pan, brownie recipe scaled for two.
Ingredients
¼ cup butter
2 Tbs milk
½ cup chocolate chips
1 egg
½ tsp vanilla
½ plus ⅓ cup sugar
½ cup flour
Instructions
Preheat oven to 350 F and grease a 8 X 4 (standard) loaf pan
In a medium sauce pan melt the butter
When butter is melted add the milk and heat for 1 minute
Remove from heat and stir in chips. Let melt completely
When chips are melted and the mixture has mostly cooled, add vanilla, egg, and sugar and stir well
Gently fold in flour then spoon into prepared loaf pan
Bake for at least 15 minutes then check (knife comes clean)
Simple Coffee Cake for 2
Preheat oven to 375 F. Grease and flour a loaf pan
Cake
3/4 cup flour
1 1/4 tsp baking powder
1/4 tsp salt
1/4 cup sugar
1/2 egg (2 Tbs egg)
2 Tbs vegetable oil
6 Tbs milk
Crumb Topping
2 Tbs plus 2 tsp four
1/4 cup sugar
2 Tbs butter
1/2 tsp cinnamon
Combine the crumb topping ingredients in a bowl and set aside. In a small bowl combine the dry ingredients. Beat together the egg, oil, and milk then add to the dry ingredients to form a batter. Pour the batter into the prepared loaf pan and sprinkle with the topping. Bake 10-15 minutes.
Old Fashioned Ginger Bread for 2
Preheat over to 350 F. Grease a loaf pan
1/2 an egg (2 Tbs egg)
1/4 cup sugar
1/4 cup molasses
2 1/2 Tbs butter, melted
1/3 cup cold water
3/4 cup flour
1/2 tsp baking soda
1/2 tsp ground ginger
1/4 tsp salt
Combine egg, sugar, molasses, butter and water and whisk together really well. In a separate bowl combine the dry ingredients and mix together well. Add the wet ingredients to the dry and beat until well mixed. Pour batter into the prepared loaf pan and bake for 10-15 minutes until a knife comes clean. I happen to like ginger bread hot out of the oven with butter but many serve ginger bread with whipped cream. Still, try the butter.
Back to Baking
Brownies, snack cakes, and coffee cakes are all easily converted to a 8 X 4 size. And they are well worth making in our home. Just remember to look for recipes that are made for a square 8 X 8 or 9 X 9 pan. Larger recipes become problematic if you try and cut them down too much. Once you have made a couple of these quick deserts you will not go back. They have the benefit of one bowl convenience with a size that provides just enough for the smaller household. Watch you time when reducing these recipes and make a note or two along the way. Once you find the recipes you like you will also get a good handle on how much time each one takes.
Happy Baking!