Pot roast for two? Jigs dinner? Bone in ham? Roasted chicken? Of course. Where do you want to go out?  Do they have take out? Right?
Wrong. There is no question that preparing certain food favorites like those listed above is a challenge when cooking for ourselves or one other. Unless you want to have left overs (and by left overs we often mean throw one third of the dish away) these types of large dish food favorites seem out of reach to the smaller household. We can cook these old school dishes if we plan ahead, do some creative shopping, and above reimagine how we use the freezer.
21st Century Multi-Tasking
We all multi task these days. Porting our cellphone calls to our bluetooth e-reader so we can text a response while catching up on a PDF report generated by a colleague working 3 states away. Even if you don't quite have that lifestyle we do multi task. Where we ignore those skills is in the kitchen. Or, more importantly, we forget that a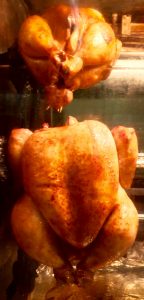 food basic, like our protein, can start out as a basic staple (like pasta or rice) and transform, with a little help, into 2 or three meals.
One of our favorite examples of this is the rotisserie chicken. Many mega marts along with our local markets have these roasted chickens on sale. They are amazing, delicious, and depending on where you get them, pretty healthy. However, if we look at that chicken from the eyes of a single household eater (or even a dual household) we are seeing 3 to 4 pounds of TOO MUCH FOOD. And we are right back to take out.
Two for Two
The key to looking at one of these larger items is to stop looking at them as "dishes" and look at them as "bases". Looking at a rotisserie chicken as just "cooked chicken" instead of "tonight's entree" is the beginning of true multi-tasking in the kitchen. Sure, paired with some mash potatoes or mac and cheese and dinner is done. However, then you have lots of chicken left over. So, what do we do next?
The key is to invest time up front when you have finished cooking a larger protein or item (again, pasta or rice come to mind). In the case of chicken after you have portioned out what you want for dinner (and left overs if you are the kind of person who takes your lunch and makes your work friends jealous as they eat their supposedly "fresh made" plastic wrapped truck delivered hoagie) it is time to covert our chicken to the next meal. Most of the time the best think to do is to debone and de-skin the chicken. What you now have is the basis for home made chicken salad, chicken on top of salad, or anything that requires canned chicken. Simple cut up the way you want it and use in a couple of days or freeze (see how to vacuum seal).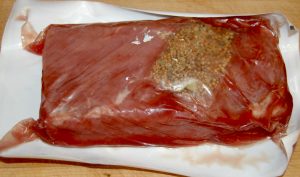 Corn Beef Two Ways
In honor of St. Patty's day (and because every market has corn beef brisket on sale) here is our version of using corn beef twice.
You have many options when cooking corn beef. The most basic is to place the corn beef in a large stock pot and boil for a long, long time. I still love cooking a brisket this way. It is the very definition of old school. However, by long time we mean for a 3 lbs brisket 3 hours. That is a lot of stove top boiling. Anything you boil that long you have to check often for water level.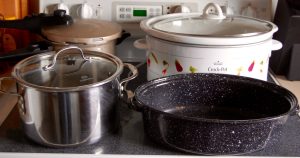 Another option if oven cooking. Place brisket, fat side up, in a roaster or dutch oven, add water to the top of the fat, and cook at 350 F for 1 hour per pound. The USDA tells us cook it to a minimum of 158 F but it really doesn't matter. Anything ABOVE that temp (and to get it tender it will be above that temp) is fine. Again, our experience is that to reach the desired tenderness you will be way beyond any temperature concerns.
The final two ways of cooking corn beef require equipment you may not have in your house. First, the crock pot is an excellent option. Put the corn beef in the crock and barely cover with water. Cook for 5 hours on high or 8-9 hours on low. You can also cook a corn beef in a pressure cooker. This is a faster version of the "boil" method. Follow all of our pressure cooker instructions and use a general rule of 30 minutes per pound.
Corn Beef Boiled dinner for Two
1/2 (1 – 1.5 lb.) cooked corned beef with liquid (total liquid of about 4-5 cups)
1/2 cabbage, sliced thin
1 medium onion, in chances
3 large carrots, in 1 inch pieces
2 medium baking potatoes, scrubbed and quartered (if potato is a a large one you can cut into 8 pieces instead of 4)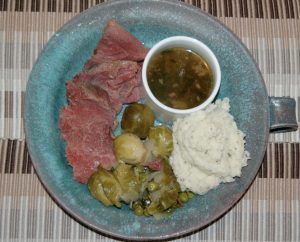 Options
Substitute Brussel Sprouts for the cabbage
Add up to 2 cups of frozen peas when you add the the corn beef and heat through
Add frozen spinach or kale
Add all of the above vegetables and include broccoli and/or cauliflower and omit the potatoes for a high energy less "starchy" jigs dinner
Bring liquid to boil and place all ingredients into the boiling water. Cook until the potatoes are just tender. Slice the corn beef and place in the liquid to reheat and serve. Makes 2-3 healthy servings.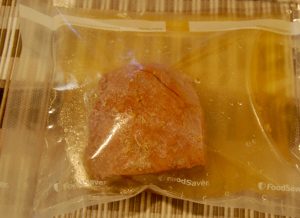 Take the second half of the brisket and vacuum seal or regular freeze WITH ITS LIQUID.
And Second: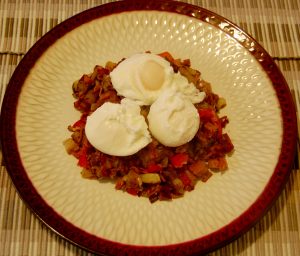 Fancy Corn Beef Hash
Two for Two, St. Pat's Edition
Prep time:
Cook time:
Total time:
Hash is a staple for breakfast or brunch. It is also an excellent choice for dinner. This is a basic hash but can easily be modified with additional aromatics. Serve with eggs or if using for lunch or dinner serve with a side of steamed vegetables, sautéed cabbage, or salad.
Ingredients
½ cooked corn beef (with about ½ cup cooking liquid reserved)
1 large baking potato, scrubbed and cut into cubes
½ sweet red pepper (optional), diced
½ onion, diced
1-2 clove(s) of garlic, mashed or grated
2-3 Tbs olive oil
Instructions
Shred or cut the corn beef, making it into bite sized pieces
In a large non stick skillet (or well seasoned iron skillet) heat 2 Tbs of olive oil and then add the potatoes. Lightly salt but liberally pepper the potatoes.
Pan fry the potatoes until they are just starting to get tender (time will depend on how small you cut the potatoes). If the potatoes go dry add up to one more Tbs of oil.
After the potatoes are just done add the rest of the ingredients except corn beef. Sauté until the onions are translucent.
Add the corn beef and a little bit of the the liquid (you don't need much liquid but some people prefer "mushy" hash, like out of the can).
Cover and cook for 3-5 minutes until the corn beef is heated through. If you like a crunchy coating on your hash uncover, spread thin in the pan, and "brown" both sides.