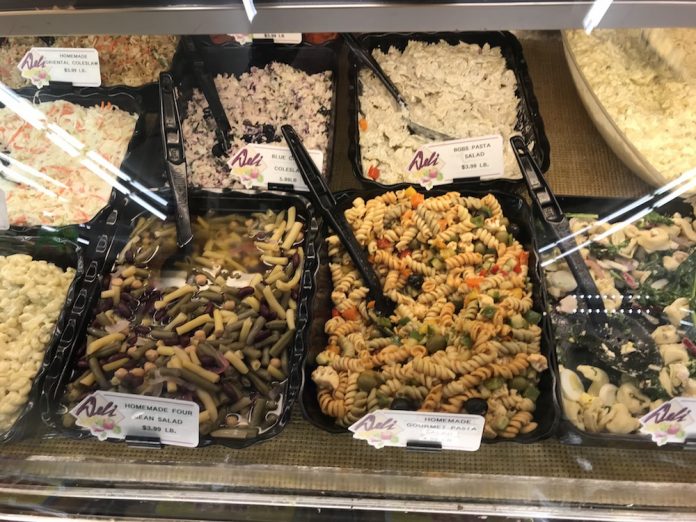 By Candace Byington and Nida Ammar
The weather is breaking. Breaking good and breaking bad. Sure, there are still misty, cold, foggy days but sprinkled in with warm, sunny, get outside days. This means parks, this means walks, this means porch sitting, and this means eating on the go. After being stuck inside all winter with left tuna casserole and thermoses filled with soup, it is time to take our breaks outdoors and enjoy weather. Plus, if you want to get in an evening walk or round of frisbee golf, who wants to cook? Local markets offer an alternative to fast food and frozen frenzy. This week we take a look at Walt Churchill's Market, Market on the Green, Sautter's, Tiger Bakery, and Monnettes.
Finally spring has arrived! If you are on the go and need snacks or a quick meal, Walt Churchill's Market in Maumee is an ideal one stop for "grab and go" items! Best of all the choices are often light and healthy. The market features "grab and go" hot meals, salads and sushi. In addition there are snack size packages of cheese and crackers, loaded potatoes and as well as grape leaves hummus and pita. There is so much more though! Visit the expansive salad bar and create your own light meal. The produce section has nutritious cheese and fruit snacks, fruit and vegetable pizzas as well as simple yogurt and fruit combinations, neatly packaged and ready to go! Of course the deli offers unique salads and deserts too!
This is a cozy market where you can get virtually all your needs! The staff are friendly, merchandise is distributed neatly and the market is super clean! This week, we were looking for food-on-the-go, yet we could not stop ourselves from taking a look at every shelf! The market carries food made and packaged by Tiger Bakery, so; you're up for a fesh, delicious treat of Tabouleh, stuffed Grape Leaves, stuffed Cabbage and a variety of Middle Eastern foods that will satisfy your taste buds! If you are in for a crunchy treat (AND you're not allergic to nuts!), this place offers a large variety of nuts. Plain hazelnuts, chocolate covered peanuts, mixed nuts and more, in addition to dried fruits that you will enjoy munching on your way between meetings! Additionally, the market offers all you need for a spontaneous barbecue trip for those days that feel too good to spend inside! Best part is the market carries many local brands. Stop by this market and see for yourself!
Located in both downtown Sylvania and in Waterville, Sautter's is a great place to plan a quick lunch, a picnic, or dinner. An excellent deli, bakery, and kitchen Sautter's offers a wide variety of grab and go or grab and cook quick options. From fresh soups (it is still chilly at night), grab and go meals, deli salads, and a respectable cheese and meat counter if you feel like wine and charcuterie, Sautter's in an excellent market. Also, both Sautter's are big enough to satisfy your regular shopping needs while small enough to navigate quickly after a hectic day. A perfect combo as we get away from winter and start spring.
Tiger Bakery specializes in Middle Eastern pastries and freshly cooked meals! Say you are having a long day and you crave some healthy food but have no time to cook? Tiger Bakery on Monroe is where you should head! They offer a variety of pastries that you can munch on and feel blessed! Plus meals you can carry out and eat at your desk and enjoy each bite such as grape leaves, rice and veggies, chicken tawoog and more! In addition, they can satisfy your sweet tooth with a selection of baklava, petite four and kunafa that are packaged for your on-the-go convenience!
Monnettes
Worth mentioning is Monnette's Market on Glendale. If you need a light lunch or snack on the run you will not be disappointed! Check out their deli for unique salads, quality meat and excellent service. In this same area you will find ready-to-go sandwiches and salads, a few on pretzel buns. They also offer a single size serving of veggie pizza. Other quick grab snacks include cheese and yogurt and the daily soup specials. Dried fruit and nut snacks are available in many varieties. Nothing beats fresh fruit or vegetables and the market has many varieties at all times. Don't forget their locations on Secor and on Reynolds as well.