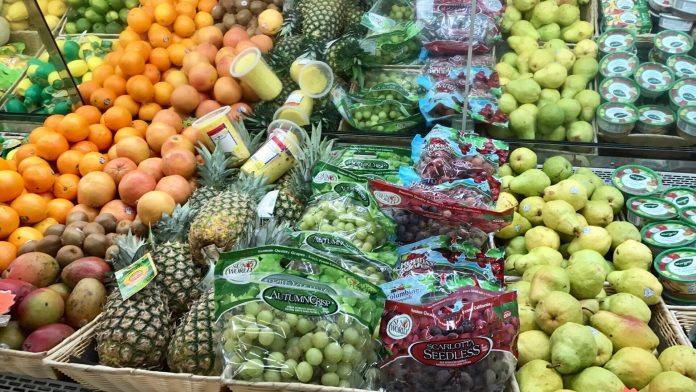 By Candace Byington and Chris Watson
Malls?  Department stores? Internet? Forget about all of those. Stroll through any of our top notch local markets and gift ideas abound. Whether looking for a quick stocking stuffer, a small thank you, a hostess gift, or your contribution to an evening celebration, stay out of the zany that is the mega mart and pick up your gifts at the grocery.  This week we feature Sautter's Markets, Walt Churchill's Market, Middle East Market, Monnettes, Sofo's and San Marco's. Gift shop at the grocery. It is as easy as a gift certificate and much, much tastier!
Creating a gift basket for the holidays is an easy task if you go to Sautter's in Waterville. You can create a traditional fruit basket from their produce section.   coffee lover on your list the store offers Tiedke's coffee and has single serve cocoa in a variety of flavors. You will find a selection of cheese and crackers as well as cookies and unique jam for a wine and cheese basket. Of course there is an assortment of pasta and locally produced sauce for an Italian dinner basket. They have a great selection of wine and liquers for coffee as well as locally crafted beer that can be added to any gift basket as well. Best of all, there are baskets already made and ready to take home!
[cycloneslider id="sautters-dec-16″]
Walt Churchill's Market in Maumee offers a multitude of great gift worthy items! You can wow your friends and loved ones with a basket of local wine and international cheese, offer whole bean coffee and flavored cocoa, create an amazing fruit basket or simply give chocolates from Dietsch's-all in one stop! Check out the pasta aisle for glutten free options or traditional gnocchi from Italy. Offer unique barbecue and hot sauces to the one in your life who cannot wait for summer and grilling! Treat yourself to one of their subs, salads or sweets from the bakery. Don't have time to make your own basket? No worries! Walt Churchill's market has their own ready made baskets available throughout the store!
[cycloneslider id="walt-churchills-market"]
There is so much to choose from at this market it is hard to single out a few items. The Middle East Market on Bancroft street has a huge variety of candy trays, dried fruits and nuts, coffees, and unique imported jams and honeys. All of that in the first aisle! Turn to the front of the store and you see the deli and bakery area and any fiscal discipline dissolves with a meat pie and baklava. This is a perfect place to find a unique gift or party tray.
[cycloneslider id="middle-east-market-dec-16″]
Monnette's
Another great one stop for gifts from the grocery is Monnette's Produce Markets. You will find fresh fruit and assortments of nuts. Someone on your gift list will enjoy Monette's variety of regional wines and cheeses. The market offers many items produced in Ohio and throughout Toledo. A loaf of bread from Country Grains in Sylvania or pizza crusts from Sofo's can be  nice offerings this season.
[cycloneslider id="monnettes-dec-16″]
What is not to love about Sofo's.  Of course they have their traditional Panettone ready for pick up and delivery to your favorite relative or friend. As for party supplies, this is the place. You will dazzle a host with a tray of olives or deli items from their deli. And the bakery…we don't know how cannolis ever survive the drive home they are so great a temptation to eat on the spot. Buy extra.
[cycloneslider id="sofos-dec-16″]
If you are looking for a gift for someone who loves Mexican food and culture visit San Marcos on Broadway by the High Level bridge. San Marcos is an ideal one stop.You will find many unique items for a gift basket and so much more. Of course there are endless varieties of tortillas made of corn and flour in sizes ranging from burrito to tiny trendy street taco proportion. They boast having not only a meat market and baked goods but also produce, sangria and household items. Do you need a press to make tortillas? How about a mortar and pestle? Need a press for limes and lemons? The mercado features fresh fruit like guava, a variety of bananas, tomatillos and nopales to name a few. You will also find assortments of dried chiles and spices and endless chile sauce.  Surprise someone with a gift of Mexican cookies, cheeses and fresh fruit this season! Best of all, stay for lunch or dinner and enjoy authentic tacos, dinners and margaritas!