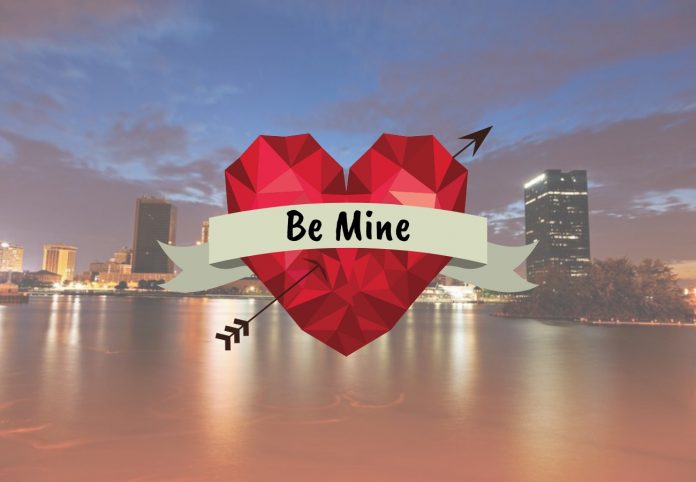 The Eskimos have fifty-two words for snow because it is so special to them; there ought to be as many for love.

–Margret Attwood
By Chris Watson 
Valentine's Day comes at the exact right and wrong time every year. It is just long enough away from the holidays to where we feel we need a break…or at least an excuse to take a break. On the other hand, it is close enough to the holidays to where our bank accounts are still sizzling with hard use. It is in the dead of winter, so we need something to celebrate. However, we are just getting into the dieting groove and all V. Day offers is chocolate and butter dripped seafood (not necessarily on the same plate).
This rapid emotional ossilation is the very nature of love and, by virtue of association, Valentines Day. Yet, strangely, it is one of my favorite "holidays." Everyone needs a valentine. Everyone needs someone: friend, mentor, lover, spouse…even arch nemesis. Valentine's Day is a perfect time to remind that special someone how much they mean to us.
We me may not have fifty plus words for "love", but we have more than 50 ways to say thank you on Valentine's Day. Local shops abound with gift ideas from the quintessential to the sublime. Below is just a sampling of our favorites.
Want to really impress? Go out of your way to make this year a local Valentine's Day!
Not Just Flowers…A Few of Our Favorites
In Bloom Flowers and Gifts: Located in Downtown Maumee it is important to remember the "gifts" part of flowers and gifts. Interesting jewelry, soaps, plants, scarfs, and many more items to set you apart. Kendra has several "box" options for the guy who can't decide, that includes flowers, jewelry, and locally produced chocolate covered Oreos. Make sure to ask her about plants as well. You VD gift can last years when well cared for!  203 Conant St. Maumee, OH
For Keeps: Located in Bowling Green, this shop has some great and simple ideas to stand out on a day when others are waiting in line at the mega mart. Also, it is really close to Ben Franklin so you can run in and get fudge as well. 144 S. Main St. Bowling Green, OH
Grounds for Thought: As long as you are in BG, check out Grounds for Thought. Ladies, they have comic books, regular books, records, and coffee. Guys, they have comic books, regular books, records and coffee. In general it is worth the drive. 174 S. Main, Bowling Green OH
Handmade in Toledo: The essence of "feel good" gift giving. The gifts are eclectic, eccentric, and other words that start with "e" like excellent. They are also all locally produced and show a true desire to engage with and support local artisans. 1717 Adams St. Toledo OH
The Swamp Shop: Nothing says I care like a shirt that reads "Fear the Fish!". And nothing is more local that a shirt or jersey supporting our local Walleye and/or Mudhens. The Walleye are still playing and spring is right around the corner which means spending some time in the Henhouse. 500 Jefferson Ave (Huntington Center).  406 Washington (5/3rd Stadium)
Wine Flight: This place is totally worth the drive. Rebekah and Tony will take you from the most basic choices about wine to a steep "dive" into nuanced purchasing. Rebekah is a sommelier who is both charming and easy to talk to. No matter whether you are purchasing for a complete novice or connoisseur of the highest order, Wine Flight will help. 322 Rice St. Elmore, OH
Christie's Candies and Mints: This is one of those places that simply defines the word "local". Christies has been providing chocolate and candies for, and we are not kidding here, generations to the greater Toledo area. As long as you are there walk across the street to Wixies Bakery. The same story. Doughnuts and baked goods for generations.   2002 Glendale Ave, Toledo OH.
Coffee, Flowers, Chocolates and Promises Kept
Georgettes: Gifts and Coffee
Boyd's Retro Candy Store: Candy, old school
Maumee Valley Chocolate: Besides fancy chocolate they have some really unique items to delight. Try the candy coated sunflower seeds.
Beautiful Blooms by Jen: Right in the heart of Sylvania
Grace Chocolates: Bean to bar goodness made right here the area. Sold at various markets throughout the region.
The Bottle Shop at Mancy's Italian: For the wine lover, of course. What we love about this place is who is doing it. This family has supported our community and served us great food for decades.
Drip Coffee: A local nano roaster out of Bowling Green and sold throughout the area, Drip coffee is a perfect choice for the coffee lover in your life. Check out their VIP program!