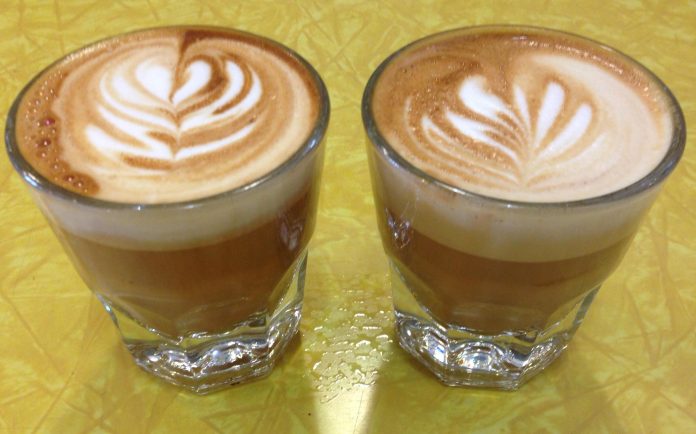 By Candace Byington and Chris Watson
This week we take a look at the area's vast array of coffee houses.  We really do have a great selection, from art and music houses to bookstores and local small batch roasters.  Every one of these local businesses are worth a visit.  Their decor, atmosphere, locations, emphasis…in a word the "vibe" of each place is as unique as the regulars who hang out. If their weren't so many we'd become a regular at every one.  No need to stop at a convenience store or drive through a fast food join for coffee.  The local and dedicated merchants and their baristas have us covered!
A great new place to hang out in downtown plus parking on the side!  Roomy, with interesting décor.  Everything you want from a coffee shop.
119 N. Ontario St., Toledo, OH
You may not drive down for a simple cup a coffee but you will want to drive down for music nights.  A great performance venue nestled in the heart of downtown Findlay
328 S. Main St., Findlay, OH
Everybit worth a drive, Grounds for Thought is a books store, a coffee house, and a small batch roaster all in one.  Drive down for the coffee then take some home…grab a book while you are at it.
174 S. Main St., Bowling Green, OH
The new kid on the block and located in the Cricket West Plaza.  Beautifully redecorated with a cozy upstairs plus a private meeting room available.
3160 Markway Rd., Toledo, OH
Craft roasted coffee at its finest.  Although not a coffee house this is the source of coffee that is served around town.  Always worth a visit.
436 13th St., Toledo, OH
Speaking of Flying Rhino, welcome to Black Kite.  Events, cool food, great coffee, perfect atmosphere.  Bottom line, totally worth a visit.
2499 Collingwood Blvd, Toledo, OH
There is something about a coffee shop located near a university…plus they use Zingerman's roasts and get their milk from Hartzler Dairy Farm in Wooster, OH.  And old school coffee house…or maybe new school…anyway a coffee house close to a school.
2903 Dorr St., Toledo, OH
Toledo has a variety of locally owned coffee shops that are worth supporting. Take a trip to south Toledo to Plate 21 off Detroit. You will find a colorful vibrant atmosphere that is ideal for meeting a friend or having an informal business meeting. There is seating by the window for a quick drink or comfy couches in the back for a longer stay. Candace highly recommends the Mexican cocoa- this can be made into a mocha upon request! Enjoy the warm, spicy goodness.
3664 Rugby Dr., Toledo, OH
The Flying Joe outside of Levis Commons in Perrysburg features seasonal teas, pour overs and traditional espresso drinks in a relaxed atmosphere. Candace highly suggests trying the dirty chai! Enjoy your coffee from the patio or one of the couches inside. You will find a table with magazines including Hi Fructose and Juxtapoz to stimulate the imagination.
2130 Preston Pkwy., Perrysburg, OH
When you're in downtown Perrysburg stop into Maddie & Bella on Louisiana and enjoy a unique drink or small meal. The coffee shop features its very own roasted coffee and a menu of tasty on trend delights. Try the toast in varieties including avacado and Elvis. Enjoy a breakfast burrito or grilled PB&J! he atmosphere is lively with a steady stream of local regulars and upbeat music. There is seating outside when it's warm or you can enjoy your joe from a window seat or at the counter. A large table is available for reservation if you have a group.
117 Louisiana Ave., Perrysburg, OH
Georgette's in Maumee on Conant street offers fair trade coffee and more! The cafe functions on the philosophy of think globally and act locally. Georgette's features a gift shop full of uniquely crafted pieces from artisans in developing nations. Stop in to shop or to enjoy breakfast or lunch. The lunch menu consists of a vast assortment of freshly made salads and sandwiches including Paninnis. There is available seating in the gift shop even at peak hours. No time for a cup of joe? Take home a bag of freshly roasted coffee beans to brew later.
311 Conant St., Maumee, OH
Claro began in partnership with First Alliance Church and is located along the Adams Street Corridor in the Uptown district.  It is now an independently operated coffee house and sits in the heart of one of the fastest growing special interest areas of our city.  Well worth a stop.
1801 Adams St., Toledo, OH
Aparently downtown on Adams Street is the place to be for coffee.  Bleak House is a more full service place with a fabulous menu along with their great coffee selections.
612 Adams St., Toledo, OH