Auto & Motorcycle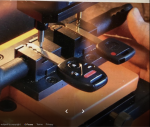 (419) 324-9811
359 S Reynolds Rd, Toledo, OH 43615, 43615
Locksmith services for Auto, Residential & Commercial.

419.861.8118
931 Hamilton Drive, Holland, OH, 43528
Nothing is quite so stressful and day to day disruptive as auto repair. If your business is depending of a fleet of vans or your kids are depending on your minivan, let Express Transmissions ease that stress. We are a family owned business dedicated to helping our clients understand their repair options. Our promise is to help you make an informed decision about the time and cost of your repairs. Find out more about our company and process.
We are the leader in fleet maintenance and repair!