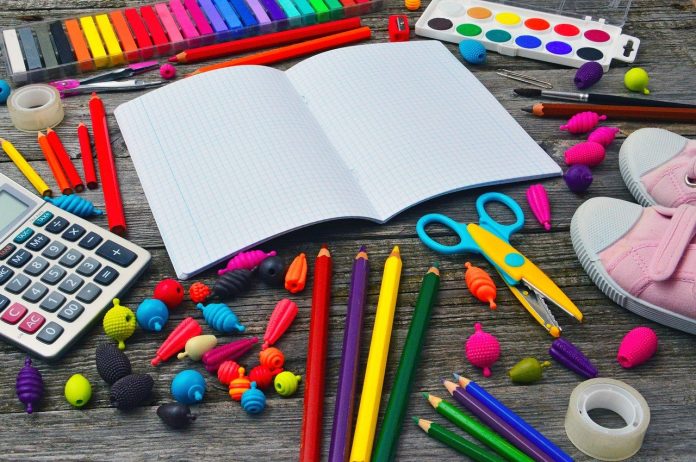 The siren call of back to school is received with mix enthusiasm from all involved. Certainly parents are ready to send kids back to school. Many grandparents are ready, especially if they have been part of the family plan for child care. Even students and teachers greet the first school bell with a blend of eagerness and reluctance.
With so many activities and events already in progress for schools and universities, Back to School is already upon us. As the sun rises later each morning, the school bell tolls for all.
For several years the State of Ohio has been granting a tax free weekend in honor of school returning. Basic supplies, clothing and some additional items are designated as tax free. 
Specifically, from Friday, August 6, 2021 at 12:00 a.m. to Sunday, August 8, 2021 at 11:59 p.m. the following items are exempt from sales and use tax:
 An item of clothing priced at $75 or less;

 An item of school supplies priced at $20 or less; and

 An item of school instructional material priced at $20 or less.
Almost Easier Than New Math
In general, the rules for the tax exemption are straight forward. For more specific information you can check the Ohio Department of Taxation FAQ for complete details. 
Any clothing that can be worn to school (and costs under $75) qualifies. This includes multiples. If your school has a uniform policy you can buy 10 pairs of navy blue pants as long as each pair is under $75. This is true for shirts, skirts, blouses, shoes, socks, coats, blazers, under garments , belts, boots, mittens, gloves and hats.
There are a couple of tricks. BOGO (Buy One Get One) is subject to tax if the first item doesn't meet the price maximum. In other words, Items can't be "averaged" to meet the price requirements. This includes items that are buy one, get one at a reduced price. Also, items can't be split. A $100 pair of shoes can not be sold as 2 shoes at $50.
Most back to school items are pretty intuitive. However, there are some items that are definitely not on the list. In short:
Clothing accessories like hair notions,cosmetics, belt buckles, patches, emblems, or jewelry, 

Protective equipment like safety glasses, gloves, face shields or masks.

Specific sports equipment such as ballet shoes, spikes, or sporting gear.

Patches or emblems (not already attached to clothing)

Sewing equipment, material or notions.
Hidden in the mega list of items that do qualify are items that are not intuitive but are still tax exempt this weekend. These include:
Slippers and shoe laces

Neckties and suspenders

Aprons for both shop and household use

Bathing suits and costumes

Child and adult diapers

Garters, garter belts, girdles and formal wear (really?!?)
Don't forget to check the FAQ for full details. Regardless, if you have back to school needs, this is the weekend. I may not be much, but in a world of rising prices and raising kids, every little bit helps.