By Chris Watson
Do not even try and deny it…you eat what ever candy is in the candy bowl at Halloween. If you have kids, grand kids, nieces, nephews, even neighbors kids if you think you can get away with it, you will snitch from their candy as well. It doesn't matter if you like it. It doesn't matter if you are on a diet. It doesn't even matter if you consider yourself a gourmand who has a complete understanding of the percentages associated with cocoa you will still eat a Hershey's mini.  For those of you who are, in fact, gourmands a Hershey's bar has 11% cocoa. "Serious" chocolate starts at 60%.
A Mini in Hand is Worth Two in the Store
The problem with candy around Halloween is proximity. That mini pack of Skittles is sitting right there…taunting…and after all it is a "mini." None of us can resist the pull of a mini Butterfinger. In fact, most of the time we eat a mini Babe Ruth to remind ourselves why we don't buy big Babe Ruth's. The point is we eat the candy, whether we think we want it or not.
For those of us who are a bit older we riffle through the candy bowl looking but rarely finding a taste of our youth. Depending on your age, many of us remember penny candy, and we miss it. Penny candy is, apparently, influential enough that the Le Cordon Bleu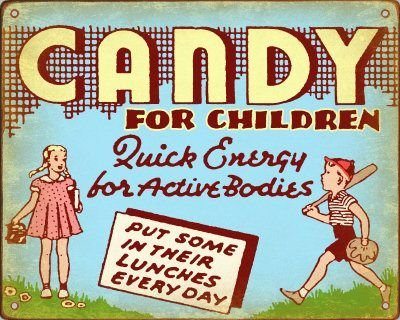 culinary school has an article about its history (check it out here). For the record, I was a Pixie Stix guy. Pixie Stix are basically colored sugar. However, I have always been essentially addicted to "more" and Pixie Stixs were TWO for a penny. Old Time Candy has a great list of candy by the decade. Yes, they sell candy as well but you don't have to wait for mail order. We are blessed with some great retro candy providers right in the neighborhood.
Quality Over Quantity
If we are to be honest we don't adhere to the "it is just a mini" theory of candy eating. We think just one…we may even say just one…but we eat the bowl. The little foil wrappers pile up by our Lazyboys as grim evidence of our lack of will power and a testament to the power of sugar, cream, and artificial flavoring. The vicious Halloween cycle begins. I have even run into people who are buying bags of candy post Halloween who, when our eyes meet in the store, they quickly explain that they intend to "freeze" the candy for next year. Of course…because Halloween candy is a good thing to buy on sale and freeze.
As adults we do not have to subscribe to this fiction. We can stop this madness. We can have our candy and actually enjoy it. If we are smart, we can control the portions so we don't spend the next several weeks eating celery and drinking carrot juice trying to compensate. Our area has some great candy stores that sell candy by bulk and chocolate by the the beautifully crafted truffle. They carry fudge by the ounce and have brands of candy that we recognize. In other words, they have the good stuff. We can buy a little or we can buy a ton and share.
So leave the mini's and generics to the Darth Vaders, princesses, zombies, and Spidermans. Candy is a treat! With our great local candy stores there is no reason to settle for a mini sold from a mass bag at 11% of anything. You may need to put a few thousand extra steps on your Fitbit to compensate, but the candy you eat will be better quality. It will be worth it.
Area Candy Stores and Chocolatiers
Great fudge plus an excellent selection of sugar free candies. Of course, you can shop for crafts, art supplies, and some of the coolest toys in the area. Go next door for a cup of coffee, pastry, game of chess, jigsaw puzzle time, or a quick browse through a great used book store at Grounds for Thought.
Great chocolate plus retro candy in the heart of Downtown Maumee.  Slip across the street to Georgette's for a cup of coffee and lunch.
Full of retro candy!  Bulk, ready, a fun place to shop!
A new player in town but worth seeking out.
Christies Candy's and Mints:
An long time area favorite. With some candy but and excellent chocolate selection. An old school chocolatier that has a great history in the area.